With NVIDIA's new GeForce RTX 40 Series laptops making their debut next month - covering everything from RTX 4090 down to RTX 4050 - prices for select models from MSI have appeared over at retailer Microcenter. With a high-end RTX 4090 powered laptop costing as much as USD 4700.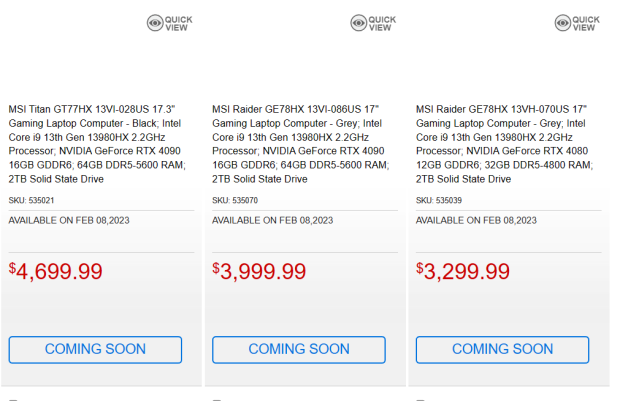 That's for the premium MSI Titan GT77HX that includes an RTX 4090 GPU, i9-13980HX CPU, 64GB of DDR5-5600 RAM, and a 17.3" UHD Mini LED IPS 144Hz Display. And with a high-end 4K display and DDR5, no doubt the cost comes from more than the inclusion of an RTX 4090 laptop GPU.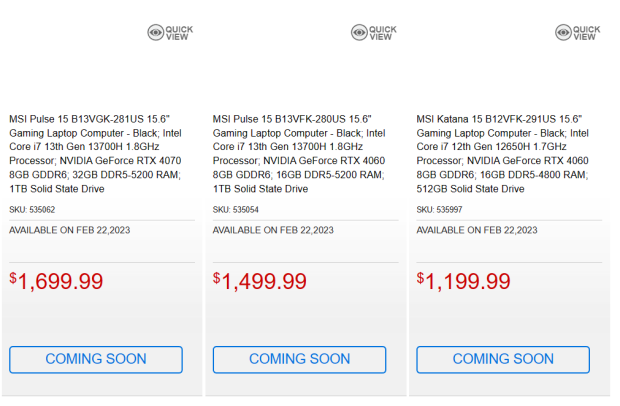 On the opposite end of the product line-up, the MSI Katana 15 includes an RTX 4050 GPU, i7-13620H CPU, 16GB DDR5-4800 RAM, and a 15.6" Full HD IPS 144Hz Display. The price for this model is listed at USD 1200, which is similar to the model featuring an RTX 4060 GPU.
For what's considered the affordable sweet spot, the RTX 4070, there's MSI Pulse 15 that includes an i7-13700H CPU, 32GB DDR5-5200 RAM, and a 15.6" Full HD IPS 144Hz Display for USD 1700.
Pre-orders for RTX 40 Series laptops are expected to open on February 1, with these MSI listings featuring availability dates of February 8 for RTX 4090 and RTX 4080 models and February 22 for RTX 4070, RTX 4060, and RTX 4050.
It's worth noting that the laptop RTX 4090 is very different from the desktop RTX 4090 - with specs more in-line with the desktop RTX 4080.
Here are the specs for the entire range; much like the Ampere-powered GeForce 30 Series laptops, each chip will have different versions based on overall power draw - with different CUDA core counts and memory configuration than desktop models.