Although worldwide PC shipments of 65.3 million units in Q4 2022 sound like a lot, it's a 28.5% decrease compared to Q4 2021. The data comes courtesy of Gartner, Inc, with economic uncertainty as one of the underlying factors.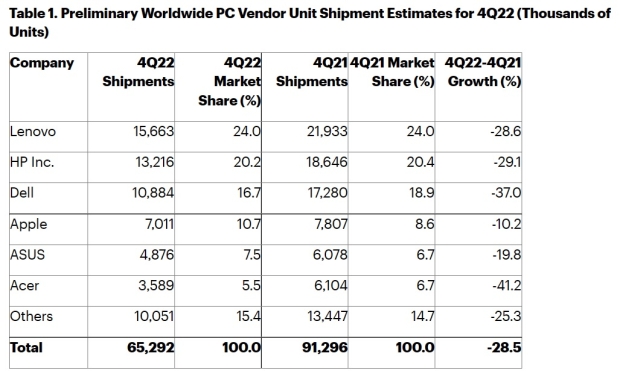 Undoubtedly, the last couple of years have been strange for PC hardware, from hardware shortages to a pandemic to a substantial increase in people working from home. Gartner notes that the high demand and low supply issues of 2021 did a complete 180 to turn into an excess of supply once the demand slowed down.
"The anticipation of a global recession, increased inflation, and higher interest rates have had a major impact on PC demand," said Mikako Kitagawa at Gartner. "Since many consumers already have relatively new PCs that were purchased during the pandemic, a lack of affordability is superseding any motivation to buy, causing consumer PC demand to drop to its lowest level in years."
The report covers complete PCs (for businesses) and not specific parts or DIY builds, with the top three vendors for Q4 2022 being the usual heavy hitters - Lenovo, HP, and Dell. Although there's a significant decline in overall shipments, Lenovo has maintained the lead with a market share of 24% versus second place HP with 20%. According to the report, HP was hit the hardest, with a decrease in shipments of around 44%. But, HP took over the top spot in the U.S. from Dell with a 26.8% market share.
Looking at the entire year, 2022 saw an overall decline of 16.2% year over year, and Gartner is reporting this as the worst shipment decline in its PC tracking history. On the plus side, the 286.2 million units in 2022 put it on par with 2019 shipments, highlighting the incredible growth seen across 2020 and 2021.
And as the economy continues to slow down, Gartner predicts that the market won't grow until 2024.