Russia is planning on getting an empty Soyuz capsule to the International Space Station to replace a malfunctioned spacecraft that was originally intended for cosmonauts returning back to Earth.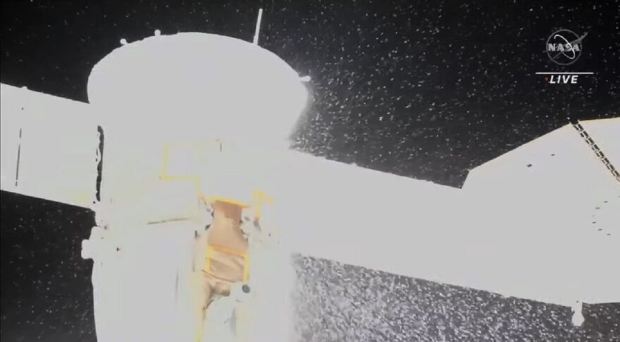 Russia's space agency concluded that Soyuz MS-22 suffered a coolant leak on December 24, around the same time Russian cosmonauts Sergey Prokopyev and Dmitri Petelin were preparing for a spacewalk. Coolant spewed from the leak for hours, which caused officials to call off the spacewalk and assess the situation. It was found that the coolant leak now prevents the Soyuz MS-22's radiator from working effectively, meaning that the spacecraft was unable to cool the cabin, resulting in possible temperatures of more than 104 Fahrenheit.
With the possibility of extreme temperatures inside the spacecraft, Roscosmos decided that Soyuz MS-22 will return to Earth, but without a crew, and the replacement Soyuz MS-23 will be sent up for the ISS-stationed cosmonauts. According to a report from SpaceNews, Russia's new plan to replace the malfunctioned spacecraft includes sending the Soyuz MS-23 up to the International Space Station with cargo on February 20.
"The main problem to land with the current Soyuz would be thermal conditions. Because we lost heat rejection capability on Soyuz, in case we have crew inside and we have all equipment switched on, we may have a high-temperature situation on Soyuz in the equipment compartment and crew compartment," said Sergei Krikalev, a veteran Russian cosmonaut and Roscosmos' executive director for human spaceflight systems.
Once it has arrived, Russian cosmonauts will unload the new cargo onto the ISS and place Earth-designated into the malfunctioned spacecraft. Additionally, the cosmonauts will transfer some custom seat liners from the old MS-22 spacecraft to the new MS-23 spacecraft. This process is estimated to take one to two weeks.
Notably, Joel Montalbano, NASA's space station program manager, spoke to reports on Wednesday and said that the agencies aren't "calling this a rescue" and is instead being called a "replacement". Montalbano further explained that "This is the next Soyuz that was scheduled to fly in March. It will just fly a little early."
For the past month, since the malfunction of the Soyuz MS-22, NASA astronaut Frank Rubio and rank Rubio, and Roscosmos cosmonauts Sergey Prokopyev and Dmitry Petelin have been stationed on the ISS without a return ship, an unprecedented scenario, according to officials. The crew has had their mission extended by months, which was originally only intended for a 6-month stint. According to Montalbano, crews are very accommodating, informing officials that they are prepared to stay longer if that's what is required.
"The awesome thing about our crews is they're willing to help wherever we ask. They're prepared to stay until the September launch date if that's the case. If they go earlier, and that launch date moves up earlier, then they're prepared to come home earlier. I may have to fly some more ice cream to reward them," said Montalbano.
For more information, check out this link here.