Showcased at CES 2023, the EBO X is a family robot described as a "smart guardian" and robotic protector. What does that mean exactly? Well, if you've spent most of your life watching sci-fi movies then it's more like an Alexa-powered BB-8 from Star Wars than, say, an aggressive ED209 from Robocop. Don't let the cute exterior fool you, there's some serious tech under the dome.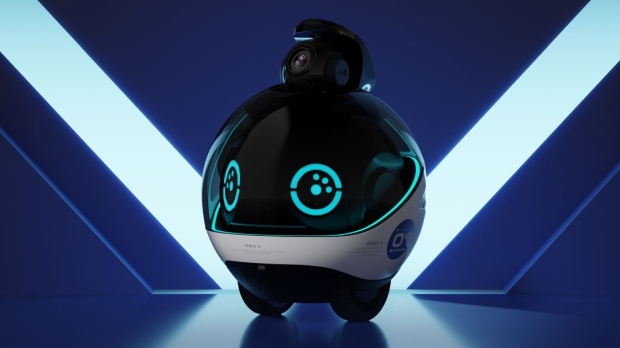 Developed by family robotics company Enabot, the EBO X is equipped with a 4K Stabilized Camera, microphone, and V-SLAM technology so it can accurately map, monitor, and navigate your home. This is bolstered by facial recognition and full movement tracking and detection, which means the whole "robot protector" angle comes in the form of being able to detect a fall by an elderly family member. Or even be on the lookout for someone crying out for help. You can also designate a part of your home as a "restricted area", so if a child or an unwanted guest manages to enter your sanctuary filled with rare Star Wars collectibles, comic books, and vintage movie props, you'll get an app alert or call to let you know someone isn't where they should be. On top of all of that, it's also a cute little robot pet with Auto Navigation and AI Face Recognition technology.
The EBO X can also facilitate two-way communication, keeping family members connected via the EBO Home App and the robot's 4K camera. Though when it comes to video chat using the EBO X, versus a standard smartphone, it might be a little weird looking at the floor whilst talking to your spouse, sibling, or partner.
And then there are EBO X's Alexa services, with premium sound delivered via a Harman AudioEFX speaker. From music to news to controlling other devices in the home, the EBO X is definitely a cool little robot. And if you're concerned about privacy there's an instant privacy button and the ability to optionally store all content on a memory card.
The EBO X will be available for purchase in Q2 2023 with a retail price of USD 999.