CES 2023 - Dell's Alienware brand reveals another Concept Nyx peripheral, this time a rather strange gamepad that Valve helped pioneer.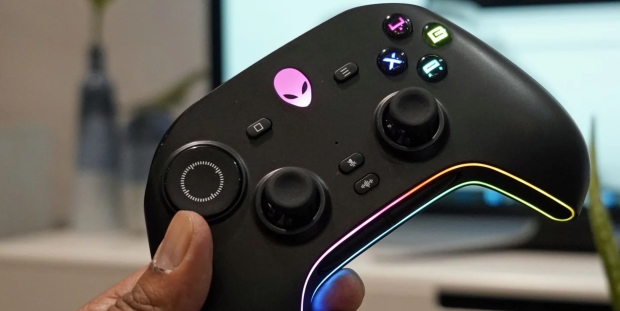 Image credit: Engagdet
Last year Alienware revealed its Concept Nyx lineup including a console-like box for local streaming of high-def games and those experimental UFO controllers from CES 2020. Now at CES 2023, Alienware has revealed its own personal take on Valve's failed Steam Controller from 2015.
The new Concept Nyx PC controller is a stylish gamepad that's futuristic, novel, and familiar all at once. The gamepad features two analog sticks in DualShock-style parallel orientation complemented by a touchpad dial where the D-pad usually is.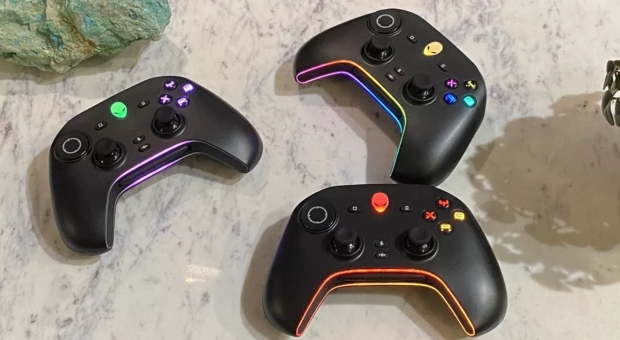 Image credit: Engagdet
The Nyx also features two touch-style buttons that let you scroll on-screen menus and the shoulder buttons will let you swipe through pages and various functions while in-game or using apps, a fingerprint sensor, and two back paddles that can serve as macros to remap other buttons on the controller. For sensory feedback, there are fairly advanced adaptive resistance triggers similar to the PlayStation 5's DualSense.
The Nyx is bathed in scintillating and glowing multi-color RGB complete with a light-up Alienware logo at the top.
Dell is reportedly positioning the controller as a hybrid peripheral aimed at both work and play, with multiple apps showing promising use-case results with the experimental new device.
There's no detail yet on availability of the Nyx controller or how much it will cost, but given the features and the style, we don't expect it to be cheap. It's also a concept design so it may never actually be released in its current form.