New York City issues PSA for preparing for a nuclear attack
The New York City Emergency Management Department has issued a new PSA detailing how citizens can prepare for a nuclear attack.

Published Jul 19, 2022 6:34 AM CDT
|
Updated Wed, Aug 10 2022 8:05 PM CDT
The New York City (NYC) Emergency Management Department has released a new public service announcement (PSA) regarding "nuclear preparedness."
The Department notes the likelihood of a nuclear weapon being used to attack NYC or a nearby incident involving such a weapon is low. However, its citizens should be prepared in the event of one. Eric Adams, the mayor of NYC, commended the Office of Emergency Management for the PSA and called himself "a big believer in better safe than sorry." He also referred to NYC as "one of the top terrorist threats," and thus that New Yorkers should always be prepared.
The new PSA advises citizens to enter a building quickly and avoid windows, and they should shut all doors and windows and head for the middle of the building. Removing clothing and showering with soap or shampoo is also advised to clean off radioactive material as quickly as possible. Citizens are then advised to stay tuned to news sources, sign up for Notify NYC, and be alert for Wireless Emergency Alerts (WEAs).
"New York City Emergency Management has a multitude of free resources for New Yorkers to prepare for emergencies, including no-notice events. As the threat landscape continues to evolve, it is important that New Yorkers know we are preparing for any imminent threats and are providing them with the resources they need to stay safe and informed," said New York City Emergency Management Commissioner Zach Iscol.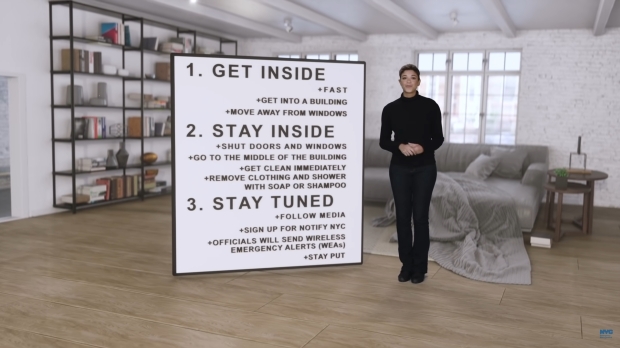 Related Tags