Bungie literally nerfs Destiny's most infamous weapon
Bungie has taken 'Nerf Gjallarhorn' quite literally and has made a real-life massive rocket launcher that shoots NERF balls.

Published Jun 30, 2022 4:29 PM CDT
|
Updated Sun, Jul 24 2022 10:52 PM CDT
Bungie has literally NERFed one of Destiny's most infamous weapons: The nefarious Gjallarhorn.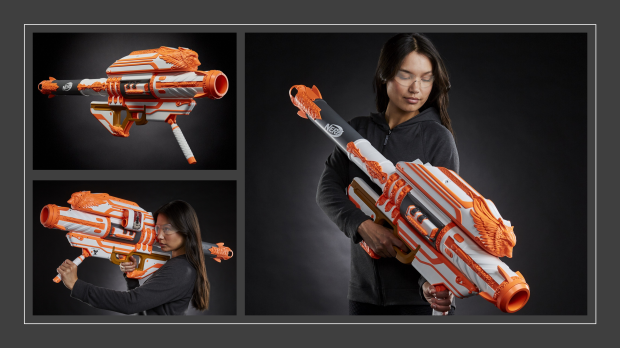 Gjallarhorn is one of the most polarizing weapons in Destiny 2, and for good reason: It's really, really good. Bungie has finally nerfed the gun, but not in the way you'd expect.
Bungie has teamed up with NERF to create a limited-edition Gjallarhorn rocket launcher that you can hold over one shoulder and pretend to be an interstellar space wizard. The toy launcher is absolutely gigantic and is a scaled replica of the in-game exotic, complete with a mini scope and all the fine-grain details found on the beloved (and hated) launcher.
"We wanted to be a little truer to the game asset, knowing that this is the only time we're going to have this Blaster in real life and celebrating that," said NERF product designer David Doern.
Bungie says that its deal with NERF started back in December 2021 when the Gjallarhorn returned to Destiny 2 as part of the paid 30th anniversary pack. The launcher will be available first as part of the Bungie Rewards program, which requires gamers to complete specific objectives--in this case you'll have to acquire the rocket launcher in the game for a chance to buy a NERF Gjallarhorn.
For more details on the NERF Gjallarhorn, click here.
To get early access to pre-order the Blaster on Bungie Day, July 7, 2022, you have to earn it in the game first and that's just so cool. So having the Blaster tied to Bungie Rewards allows people who really worked for it, the people who on day-one were like, "Gjallarhorn is back! I'm going to Grasp of Averice! I'm going to make Xur proud and get my Blaster and then get it in real life!" So, it's an awesome way to make sure the people who are most excited, who've been waiting for this for a year at this point, can get their hands-on the NERF LMTD Destiny Gjallarhorn Blaster first.

Early access to the pre-order will be granted to players who acquire the Gjallarhorn Rocket Launcher by completing the quest in the Destiny 2: Bungie 30th Anniversary Pack before July 7, 2022. Eligible players must be signed up for Bungie Rewards and Bungie Store to purchase during the Early Access Window.
Related Tags