Apple M2 Max: 12-core CPU, 38-core GPU, made on TSMC next-gen 3nm
Apple's higher-end M2 Max will replace M1 Max, should pack 12-core CPU + 38-core GPU on TSMC's next-gen 3nm process node.
Published Jun 12, 2022 10:48 PM CDT
|
Updated Tue, Jul 5 2022 11:52 PM CDT
1 minute & 56 seconds read time
Apple unveiled its new M2 processor at its recent WWDC 2022 event, with detailed specifications seeing it pack an 8-core CPU and 10-core GPU on TSMC's 5nm process node.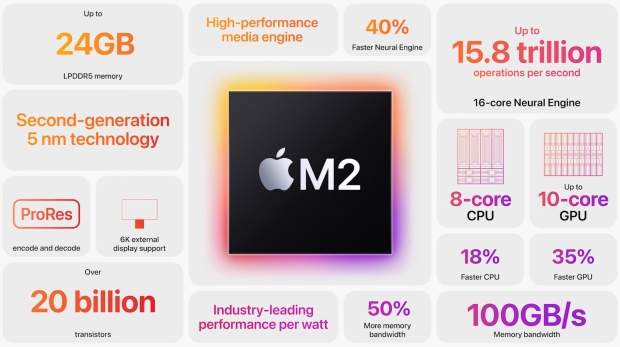 We quickly heard rumors on Apple's beefier M2 Max SoC but all we heard is that it would be made on TSMC's next-gen 3nm node... and now, we have rumors on the M2 Max specs. We're looking at the M2 Max packing a 12-core GPU (up from the 10-core CPU on the plain M2) while M2 Max reportedly packs a beefier 38-core GPU (up from the 10-core GPU on the plain M2).
Bloomberg detailed that the M2 Max chips in the new high-end MacBook Pro laptops will "include 12 main processing cores and up to 38 graphics cores, up from a maximum of 10 processing cores and 32 graphics cores in the current models".
Apple's next-gen MacBook Pro laptops will pack both M2 Pro and M2 Max chips "for as early as the end of 2022, though the release date may slip into early 2023" reports Bloomberg. The site continues: "These new 14-inch and 16-inch models, codenamed J414 and J416, won't be radically new products beyond offering the speedier chips. Apple is also releasing a new 13-inch MacBook Pro next month with the same M2 chip as the MacBook Air".
M2 Max: 10-core CPU, 38-core GPU, unknown transistors on TSMC next-gen 3nm
M2 Pro: unknown CPU, unknown GPU, unknown transistors on TSMC next-gen 3nm
M2: 8-core CPU, 10-core GPU + 20+ billion transistors on TSMC second-gen 5nm
M1 Ultra: 20-core CPU, 64-core GPU + 114 billion transistors on TSMC first-gen 5nm
M1 Max: 10-core CPU, 32-core GPU + 57 billion transistors on TSMC first-gen 5nm
M1 Pro: 10-core CPU, 16-core GPU + 34 billion transistors on TSMC first-gen 5nm
M1: 8-core CPU, 14-core GPU + 16 billion transistors on TSMC first-gen 5nm
Related Tags