Pokemon Scarlet & Violet supercharge Nintendo Q3 with November launch
Nintendo and the Pokemon Company confirm a November release for Pokemon Scarlet and Pokemon Violet on the Nintendo Switch.

Published Jun 1, 2022 5:46 PM CDT
|
Updated Wed, Jun 22 2022 4:32 AM CDT
Pokemon Scarlet and Violet will release on November 18, 2022 exclusively on the Nintendo Switch, both Nintendo and The Pokemon Company today announced.
Today the Pokemon Company dropped a new Pokemon Scarlet and Violet trailer that reveals a bunch of new in-game pocket monsters, including the endearing chonky pig Lechonk. The footage also shows more of the open-world exploration, gameplay, and the multiple biomes players will travel through like arctic tundra, dry mountainous cliffs, lush and verdant forests, and sprawling prairies.
Gamers get their first glimpse at the new professors--Sada and Turo--and a fresh look at what looks to be the best Pokemon graphics to date on the Nintendo Switch. Four-player co-operative play was also confirmed in the trailer, and we got a nice look at the interactivity of the world with a sneak feature, which can be used to stealthily capture more pokemon.
Pokemon Scarlet and Violet are set to launch November 18, 2022 and will help supercharge Nintendo's critical Q3 holiday period.
The newest chapters in the Pokemon series, the Pokemon Scarlet and Pokemon Violet games, are coming to the Nintendo Switch system later this year. As the main character, you can explore the wide-open world of Pokemon Scarlet and Pokemon Violet at your own pace. In these games, you'll be able to enjoy the iconic adventures of the Pokemon series, like battling against wild Pokemon and trying to catch them! Choose either Sprigatito, the Grass Cat Pokemon, Fuecoco, the Fire Croc Pokemon , or Quaxly, the Duckling Pokemon to be your first partner Pokemon before setting off on your journey through this new region.

Explore freely in the rich open world of Pokemon Scarlet and Pokemon Violet

Trainers can explore an open world where the various towns and cities have no borders and blend seamlessly into the wilderness. Pokemon can be discovered all over this expansive region- in the skies, in the seas, in the forests, on the streets, and more! Your outfit will vary depending on whether you play Pokemon Scarlet or Pokemon Violet. After its release, the Pokemon Scarlet and Pokemon Violet games will be able to link with Pokemon HOME.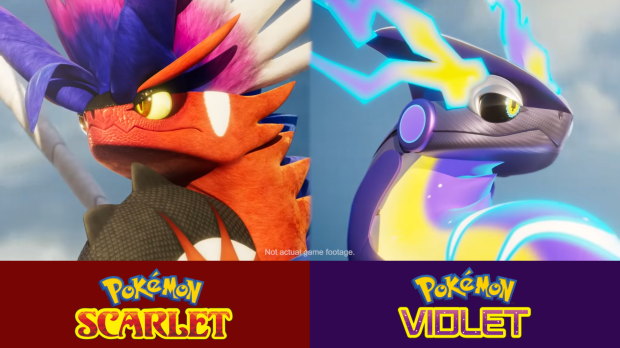 Related Tags