Now, normally we wouldn't make a big fuss about something like a portable media player, but the Qingbar GP300 takes portable to a whole new level. YellowMosqiuto, the company behind the Qingbar GP300 has managed to incorporate everything into a pair of rather unsightly video glasses, so forget about needing a DVD player or something else to plug into them, as they're ready to go as they are. Apparently the Qingbar GP300 features two LCOS displays with QVGA resolution - that's 320x240 to you and me - which are meant to simulate the image of a50-inch display at 2 meters distance.
We've sadly had the pleasure of testing similar products in the past and they're far from great, although we haven't seen any using LCOS technology before. But the very low resolution on these glasses seems like a limiting factor, as even the poor quality modes we've tried has had 640x480 or 800x600 resolution LCD displays. The Qingbar GP300 accepts mini SD cards for media storage, as it incorporates all the hardware needed for video playback.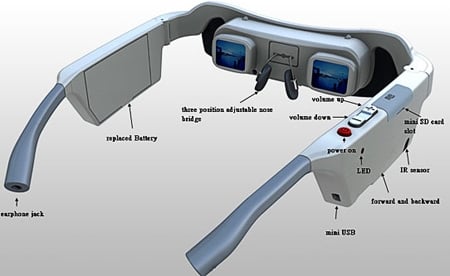 It also has a built in battery and a headphone socket is located at the end of one of each of the arms. It can also be connected to other devices such as a TV-tuner or a DVD player if you must. For some reason it also comes with an IR remote, which indicates that there wasn't enough space to add all the needed buttons to be able to control the features available. It also has a mini USB connector so you can connect it directly to your PC for file transfers.
The Qingbar GP300 will play Mpeg 1/2/4 files encoded with most common codects such as DviX and XviD. It also plays back MP3, WMA9, IMA and AAC audio files and JPEG still images. No word on battery life, but the supplied battery is only rated at750mAh, which is no more than your common or garden verity of mobile phone. We don't expect it to last much longer than a couple of hours. Another downside is the fact that the whole contraption weighs in at 100g, not exactly something you'd want perched on the top of your nose. Finally, if you order one now, you can get away with paying US$299, as the SRP is no less than US$399.
If you're still interested, then you can find out more
here