Gigabyte launches watercooled gaming PC
X38 chipset and 8800 GTX.
Published Mon, Nov 19 2007 6:54 AM CST
|
Updated Tue, Nov 3 2020 12:38 PM CST
We've just found out that Gigabyte has released information about it's up and coming retail branded PC's and one of the first models will be the Eagles, which is a high-end gaming system which will ship with a watercooling setup as standard. The black tower case with a full-length door doesn't look like any of Gigabyte's own brand cases and even things like the motherboard model name doesn't look familiar.
We're not sure if it's a good idea on Gigabyte's behalf to start competing with what inadvertently are their customers for many of their other product ranges. None the less, looking at the specifications of the Eagles system, this could possibly prove to be a successful venture for Gigabyte.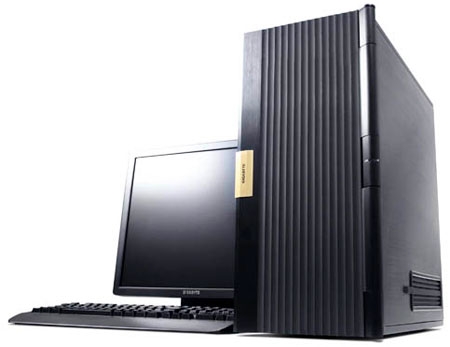 We're talking X38 chipset, support for either DDR2 or DDR3 memory, a choice of Intel Core 2 Quad and Duo processors, a GeForce 8800 GTX graphics card and an 800W PSU as part of the package. It should also come with a multi-format DVD writer, a Western Digital Raptor hard drive if we're reading the specs right and onboard Intel Gigabit Ethernet.
There's a lot of information missing, such as when and where it will be available and how much it'll cost. We're going to get in touch with Gigabyte and see if we can't manage to find out some more information for you, but no promises this time.
You can find the product spec page
here