Wolfking goes Xxtreme with new Warrior
It's one wierd keyboard.
Published Wed, Nov 14 2007 7:26 AM CST
|
Updated Tue, Nov 3 2020 12:38 PM CST
Wolfking has apparently launched its new Warrior Xxtreme keyboard, although we couldn't find it on their website. None the less, a picture of it has made its way online and you can have a look at it below. We're not sure who or why anyone would buy this or any of their other products for that matter, as they just look pants.
Saying that, the Warrior Xxtreme looks somewhat better than previous attempts from Wolfking, but we have no idea how you type on it. The right hand "circle" has a full QWERTY keyboard of sorts, but it's split in and odd way putting the keys that are normally typed by your left hand on top and the rest at the bottom with the cursor keys all the way down.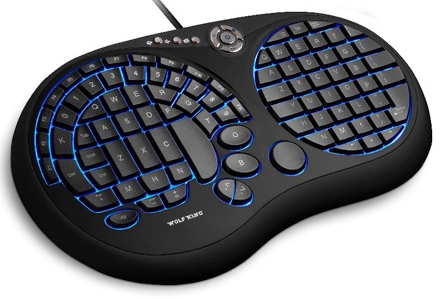 We'd challenge anyone to actually type on this keyboard, but the left hand "circle" might be usable in some games, although we can't quite see how it's supposed to work. All we can say is good luck to anyone that spends money on this, as after having tested several of these kind of devices, of which none have actually ever been successful, we doubt that the Warrior Xxtreme will have any better luck.