SpaceX Starlink satellites caught on video plummeting to a fiery death
Elon Musk's SpaceX announced that most of its batch of Starlink satellite it launched on February 3 will die a fiery death.

Published Thu, Feb 10 2022 2:02 AM CST
|
Updated Tue, Mar 8 2022 6:06 AM CST
SpaceX recently announced that the majority of the batch of Starlink satellites launched on February 3 will die in fiery death as they reenter Earth's atmosphere.
According to Elon Musk's company, 40 of the 49 Starlink satellites that were launched on February 3 were interrupted by a geomagnetic storm in Earth's upper atmosphere on February 4 that caused unexpected atmospheric density that resulted in "atmospheric drag" on the satellites. This "atmospheric drag" caused the satellites to fail to reach their intended altitude and plummet back down to Earth for fiery deaths.
The event was caught on video by the Sociedad de Astronomia del Caribe, and it shows the satellite debris burning up in the atmosphere upon reentry over Puerto Rico on February 7. As SpaceX has previously stated, Starlink satellites are designed to burn up completely upon reentry, meaning none of the debris would reach Earth's surface.
"One clue is that the orbital plane of this launch was over Puerto Rico near the time of the event, and the direction of movement (SW-NE) matches it."
"To get even more certainty, I did some astrometry on the footage and fitted a rough circular orbit to the measured positions.The rough orbital fit I get - I measured three fragments - yield[s] orbital inclinations in the range of 54-56 degrees: Starlink satellites are in 53.2-degree inclined orbits, so this is close enough (given the error margin) to conclude that the reentering object fits with the Starlink orbital plane. So there is very little doubt that this was a Starlink satellite reentering," said Marco Langbroek, a satellite tracker based in the Netherlands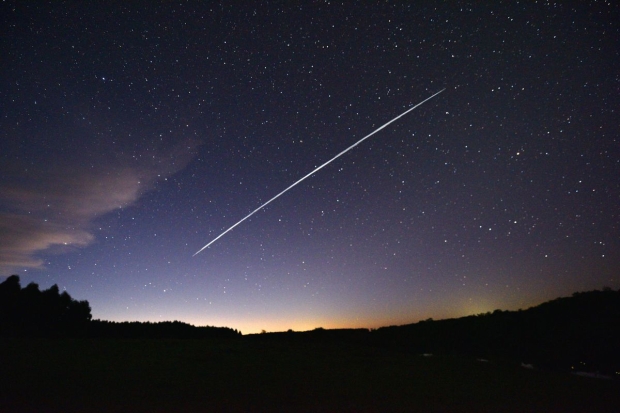 Related Tags