Gigabyte launches three AMD 790 boards
790FX and 790X chipsets.
Published Mon, Nov 5 2007 2:24 AM CST
|
Updated Tue, Nov 3 2020 12:38 PM CST
Gigabyte has launched a range of AM2+ boards based on AMD's latest generation of chipsets, the AMD 790FX and 790X, all with CrossFireX support. The first two, the GA-MA790FX-DQ6 and the GA-MA790FX-DS5 as the name suggests feature the AMD 790FX chipset while the GA-MA790X-DS4 is based on the 790X chipset.
Starting with the GA-MA790FX-DQ6 which we've written about several times before and little has changed in terms of specifications. For those that haven't seen our earlier posts, the board features four x16 PCI Express 2.0 slots, although the available lane count is only 32, so the board can either be run as dual x16, x16 and dual x8 or four x8 depending on how many graphics cards you slot in. The board only accept single slot cards if you fit more than two, which is a bit of a bummer.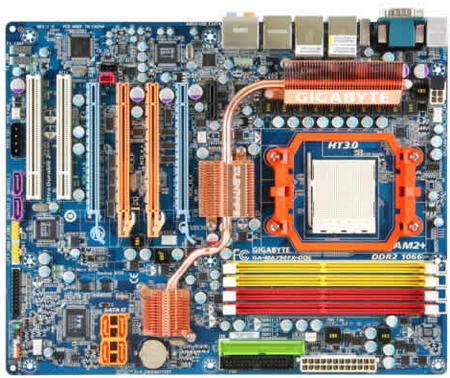 It also has two PCI slots and a single x1 PCI Express slot. Other features include six SATA, two eSATA with the option to use a bracket with two of the SATA ports to turn them into eSATA, four memory slots with support for up to DDR2-1066 memory if you're using a Phenom processor with the board. Furthermore it has six rear USB 2.0 ports with support for a further four via headers, 7.1-channel HD sound with DTS decoding and optical and coaxial S/PDIF out, FireWire and dual Gigabit Ethernet.
The GA-MA790FX-DS5 is a slightly cut down version of the GA-MA790FX-DQ6. The major difference is the lack of the extra two x16 slots, but even so, this should be a nice CrossFire board for anyone that's happy with two cards as it still has a pair of x16 PCI Express 2.0 slots. It also has three x1 PCI Express slots and two PCI slots.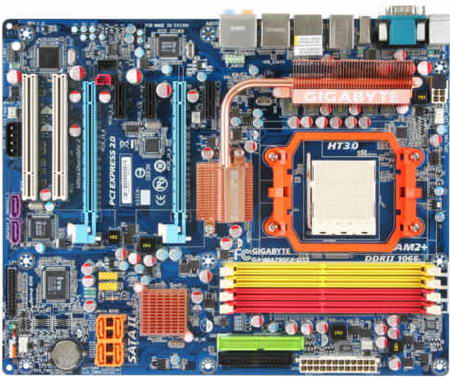 It also has a slightly smaller heatpipe chipset cooler and it lacks the bracket for the extra eSATA ports. It's also missing one of the Gigabit Ethernet ports, but this has been replaced with a four-pin FireWire connector. Otherwise the boards are quite similar in terms of features.
Finally we have the GA-MA790X-DS4 which is a slight different beast in as much as it's based on the 790X chipset rather than the 790FX. This will be the entry level CrossFire platform and it offers either a single x16 PCI Express slot or the bandwidth can be split into two x8. The chipset still supports PCI Express 2.0 and the board has two physical x16 slots.
The board also has three x1 PCI Express slots, two PCI slots, four memory slots and four SATA connectors. It doesn't have any eSATA, but otherwise it retains the same connectors around the back as the GA-MA790FX-DS5. This should prove to be a very affordable CrossFire solution which should offer decent performance for the money.
You can find more information about these boards
here