Latest North Korean missile test photographs Earth from space
The biggest North Korean missile test since November 2017 has produced new images of Earth from the view of the Hwasong-12 IRBM.

Published Tue, Feb 1 2022 5:32 AM CST
|
Updated Mon, Feb 28 2022 12:33 AM CST
The missile launched was the Hwasong-12 intermediate-range ballistic missile (IRBM).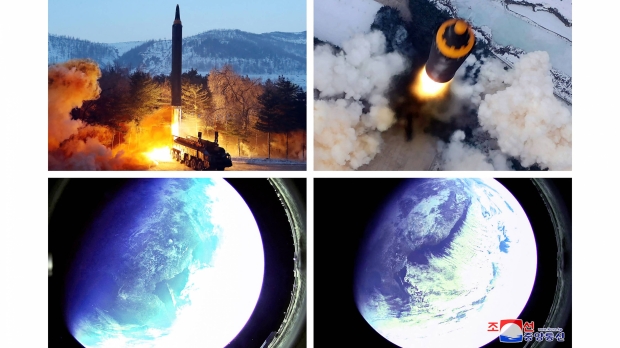 North Korea conducted the launch on January 30th, and South Korean and Japanese officials estimated it reached a maximum altitude of about 1,240 miles (2,000 kilometers). It flew for roughly 30 minutes, flying over Japan and landing in the Pacific Ocean to the east as it completed an approximately 500 mile (800 kilometers) journey.
"It was conducted by the highest-angle launch system from the northwestern part of the country toward the waters of the East Sea of Korea in consideration of the security of neighboring countries. The Academy made public the earth image data taken from space by a camera installed at the missile warhead," wrote the state-run newspaper Rodong Sinmun on January 31st.
The test marks North Korea's biggest launch since November 2017, when it launched an intercontinental ballistic missile (ICBM), which reached a maximum altitude of around 2,800 miles (4,500 kilometers). The Hwasong-12 launch is the seventh missile test of the month for North Korea, with all previous launches using much smaller missiles.
"Experts suggest multiple reasons lie behind the spate of launches, including political signalling of strength to global and regional powers, a desire by Kim Jong-un to pressure the US back into long-stalled nuclear talks and also the practical need to test out new engineering and military command systems," the BBC wrote.
Related Tags