Huge new 3D map of the universe could provide clues about its fate
The Dark Energy Spectroscopic Instrument's (DESI) ongoing survey has created a map of the universe with over 7.5 million galaxies.
Published Jan 15, 2022 2:00 AM CST
|
Updated Thu, Feb 10 2022 5:12 PM CST
0 minutes & 44 seconds read time
The Dark Energy Spectroscopic Instrument (DESI) is responsible for the new map.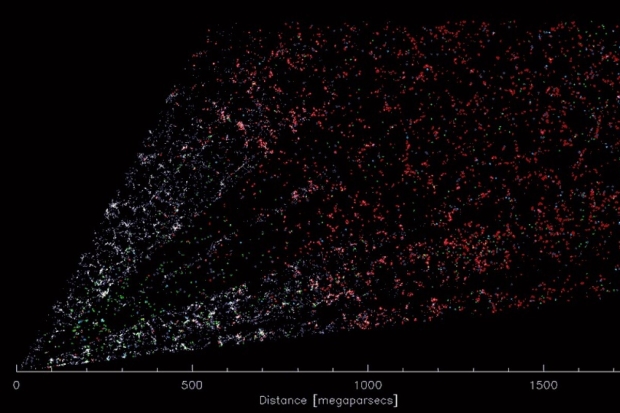 DESI was installed on the Mayall telescope at the Kitt Peak National Observatory in the Sonoran Desert and aims to achieve a better understanding of dark energy, the force hypothesized to drive the universe's expansion. Using a two-dimensional map of the universe released in January 2021, the DESI team prepared DESI to conduct its three-dimensional survey of the universe.
DESI's survey has created a map that contains over 7.5 million galaxies, far exceeding the approximately 930,000 galaxies comprising the Sloan Digital Sky Survey from 2008. DESI will expand this map, and the team expects the survey to be completed by 2026 after observing an estimated 35 million galaxies.
"There is a lot of beauty to it. In the distribution of the galaxies in the 3D map, there are huge clusters, filaments and voids. They're the biggest structures of the universe. But within them, you find an imprint of the very early universe and the history of its expansion since then," said Julien Guy, a physicist at Berkeley Lab who is working on the project.
Related Tags