New slimmer Zune players from Microsoft
4, 8 and 80GB.
Published Wed, Oct 3 2007 1:11 AM CDT
|
Updated Tue, Nov 3 2020 12:38 PM CST
Microsoft has announced a new range of Zune players and it looks like things are improving rather quickly. First up is the new 80GB model which is slimmer and has a new touch sensitive controller, henceforth known as the Zune 80GB. The Zune 80GB will only be available in black and has a 3.2-inch display, although no resolution was mentioned. It also has a built in FM radio and Wi-Fi for music sharing with other Zune users.
The 80GB drive is good for up to about 20,000 songs, 25,000 pictures or 250h of video according to Microsoft. A new feature allows you to record and sync TV content from a Windows Vista Media Center PC with the new Zune's. You can also sync your music and files wirelessly over your Wi-Fi network with the new models.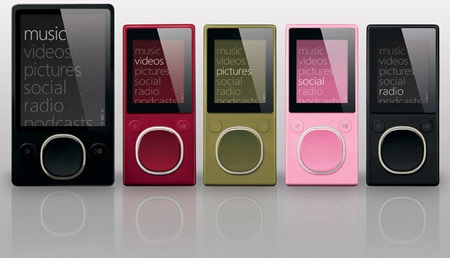 The other two new models are much smaller and look quite similar to the SanDisk Sansa View and they're known as the Zune 4GB and 8GB. Oddly enough they each have 4 and 8GB of storage and they will be available in black, pink, red and green. Again, these two models have the Zune Pad touch control, FM radio and Wi-Fi.
There was no mention of screen size in the press release, but according to Engadget the screen should measure 1.8-inches. All three models will be available in November and the 4GB model should cost US$149.99 with the 8GB model at $199.99 and the 80GB at $249.99, exactly the same price as the equivalent products from Apple.
All three models with have a new user interface and Microsoft will release a firmware upgrade for the 30GB Zune to give those that spent their cash on the older version the same features as the new models. In related news, the Zune music store is going DRM-free and with over 1 million MP3 trackers available without the DRM evilness it might be an appealing place to get your music soon.
The video above will give you an idea of how the new models and some of the new features work.
You can check out the press release
here
to find out more about various upcoming accessories for the new models as well as some more details about the various new players and features.