Blood Gulch, the OG of CTF maps, is getting modded into Halo 3
Talented modders are bringing classic maps like Blood Gulch to Halo 3 thanks to 343i's newly released mod tools software.

Published Tue, Nov 2 2021 3:24 PM CDT
|
Updated Mon, Nov 29 2021 10:42 PM CST
Dedicated modders are bringing the immortal Blood Gulch into Halo 3.
Halo modders are having a field day with the Master Chief Collection's new modding tools. We've seen awesome AI wars, sequences that break the enemy limit, and now Blood Gulch is making a triumphant combat in Halo 3.
Arguably the best CTF ever made, Blood Gulch has provided countless hours of chaos in the early LAN days of Halo CE. Now thanks to a community of modders including ex-Installation 01 lead TheChunkierBean, wwm0nkey, and Amit Bisember, Blood Gulch is being ported into Halo 3.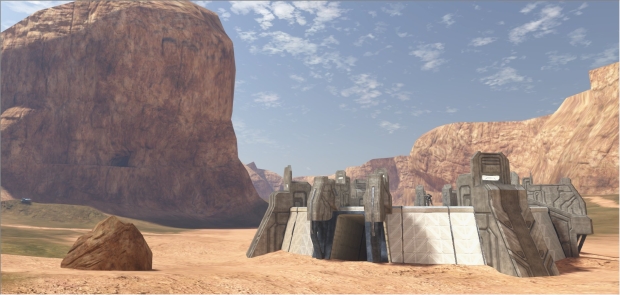 We spoke with A Chunkier Bean about the process of making Blood Gulch in Halo 3. He tells us the map is a mix of Halo 3 and Halo CE assets. The textures are from Halo 3, and the base was kitbashed using assets from Halo 3's campaign and modeled in 3DS Max/Blender.
Your eyes don't deceive you: The terrain is lifted out of classic Halo CE. The result is a double-wave of nostalgia the stretches back to the old-school days of Xbox to the glory days of Halo 3's multiplayer reign.
"Blood Gulch is arguably the most recognizable map from the Halo series, so it was an easy choice for me to learn the new tools with. My goal with this port is to make it as close to Halo 3's visual style as possible. I don't plan on changing anything regarding the level design, but the geometry will be updated across the whole map to better fit into the era Halo 3 released in.

"I have fantastic help from community members already, including abisember, who has been crafting the new base design and wwm0nkey, helping with updating the original terrain of the map.

"We are still in the early days of these new tools, so there is a lot to be learned still. I am excited to see what the community ends up creating in the future. If it is anything like what was possible with Halo: Custom Edition, then I think we are all in for a treat."
Related Tags