Keyboard which reads handwriting
built-in touchscreen/stylus.
Published
0 minutes & 51 seconds read time
A subsidiary website of cnet dubbed 'crave' has posted up some very
brief details
of a USB keyboard with a difference, it sports a built-in touch screen and stylus on the right-hand side for handwriting recognition.
Unfortunately very little about this unique keyboard has been revealed just yet, particularly in terms of what purpose the handwriting area is primarily designed for. However we do know that the overall dimensions of the keyboard are 16.22-inches x 6.3-inches x 0.51-inches, weighing 28.32 ounces. Pricing is also confirmed to be quite low at around $25 from DealExtreme.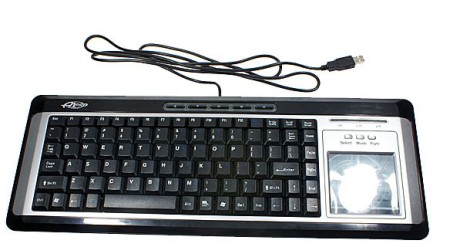 We wish we had more information on this keyboard--in fact, we'd settle for just about any information on it. As far as we can tell from its product listing, this is a USB keyboard equipped for handwriting recognition with a built-in touch screen and stylus.


(Credit: DealExtreme)It's described as an "identity" feature, which implies that the handwriting would be used for security, but it could also just be used to read foreign language characters or custom symbols, not unlike a Chinese-made mouse that we saw earlier this year. What we do know is that it's marketed by a company called A1Pro and is selling for only $25.48 (with free shipping). It's also black. And we saw it on a Web site.