New designer hard drive from LaCie
Sam Hecht takes over.
Published Wed, Sep 19 2007 8:26 AM CDT
|
Updated Tue, Nov 3 2020 12:38 PM CST
LaCie, the somewhat famous external drive manufacturer has got a new designer onboard, Sam Hecht. We can't say that he's familiar to us, but apparently he's into practical design, that's a first. In all fairness, the new drives look quite usable, if a bit bland for something from LaCie.
Rather than using some kind of metallic finish the new Little Disk family as it's know as uses a "oh so in fashion" shiny piano black finish. LaCie's product manager Nolwenn Rozen had the following to say about the new drives
"Designed for simplicity, the 1.8- and 2.5-inch drives are extremely portable and are bus powered, eliminating the need for A/C power. So whether you are on a bus, taking the train, or relaxing at the park, your data is always accessible."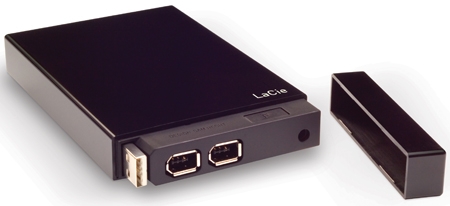 Available in sizes ranging from 30 to 250GB the new Little Disk drives should appeal to a wide range of users and the 2.5in models are available as a combo drive with both USB 2.0 and FireWire interface. The 1.8in drives are limited to 30 and 60GB in size with the 2.5in models starting at 80GB for the USB only version and at 120GB for the combo model.
Additionally the drives come with 1-click backup and synchronization software and Windows users can encrypt their data with 128-bit AES encryption. The 1.8in models costs US$99.99 and $129.99 respectively for the 30 and 60GB drives. The 2.5in version starts at $89.99 for the 80GB model and goes up to $104.99 for the 120GB, $119.99 for the 160GB and finally $179.99 for the 250GB version. The combo starts at $119.99 for the 120GB variety, with the 160GB going for $139.99 and finally the 250GB one for $229.99. All models are available now, but not in all sizes.
You can find more info on LaCie's mobile hard drive page,
here