More from Cartronics
2 DIN in-car PC.
Published Tue, Aug 28 2007 8:41 AM CDT
|
Updated Tue, Nov 3 2020 12:39 PM CST
Although there wasn't that much computer related at Cartronics, we found a couple of interesting things, the first being a 2 DIN in-car PC from a company called Giantec. It actually integrates quite easily into any card that can take a 2 DIN stereo unit and it's powerful enough to run Windows XP. The hardware might not be the most impressive around, but it seemed to do the job.
The model we looked at is called PCM600D and it comes with two different processor options, either a 1GHz or a 1.5GHz Celeron M and this have been paired with 512MB or RAM. An internal 2.5-inch hard drive caters for storage, although it seems like the company only offers 40 or 60GB. It has a front mounted slot-in DVD drive and a front USB port as well as a front microphone input.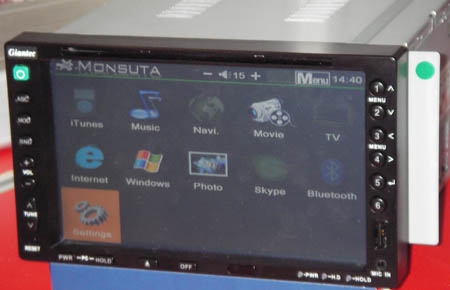 Around the back it has a VGA output for usage with a secondary screen, three more USB ports, a composite video input for a parking camera, an AUX input for audio and video and standard car stereo connection cables. The screen measures 7-inches and it's widescreen, although we don't have the resolution, but it's at least touch sensitive. There's also a built in FM and AM radio and it is compatible with USB 3G, GPS and Bluetooth add-ons. We don't have a retail price for it, but don't expect it to be cheap.
We also saw a pretty neat platform for those looking at building their own in-car system in small scales, the PEB-2735 motherboard from Portewell. It features a motherboard with an add-on port module as well as the ability to add an expansion board. Again we're looking at a 1GHz Celeron M and it's also using the Intel 915GM chipset. But the PEB-2735 is using a CompactFlash socket for storage or it can use SATA drives. The neat thing is that Protwell can provide customized I/O modules for this board if the standard one isn't suitable beyond product development which is pretty neat.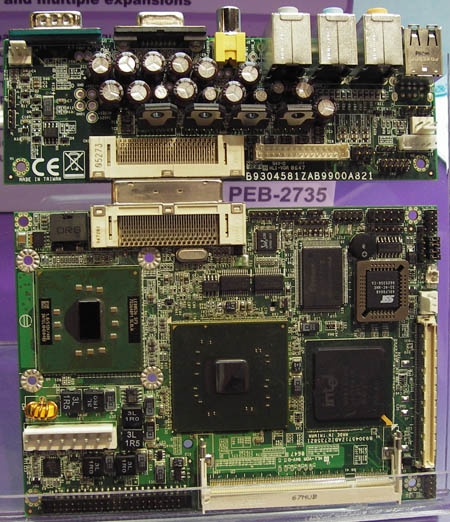 The optional expansion board features two miniPCI slots and a miniCard socket for PCI Express x1 peripherals as well as a pair of USB ports. This adds the possibility to fit Wi-Fi, GPS, 3G and TV-tuner modules directly to the system in a neat way. The board runs off 12V and can operate in temperatures from -20 to 80 degrees C.
Sadly there wasn't that much of interest at the show this year, as most of the other manufacturers that displayed there products wouldn't let us take pictures of them, like the rearview mirror we saw with an integrated GPS systems, something that looked really neat, or the company that seemed to be doing in-car computers for all the big car manufacturers but again wouldn't let us take any pictures, as they didn't want it to be known that they produced products for so many different brands of cars. Oh well, let's hope for better luck at the next show.