Super Talent Expands DDR3 Options
Incl. first 2GB DDR3 module!
Published
1 minute & 31 seconds read time
Memory maker Super Talent have released a new series of DDR3 modules this week, starting with the W1333UB2G8 kit. This kit comprises a couple of 1GB sticks rated for 1333MHz speeds with timings of 8-8-8-18.
However, the most exciting is their two DDR3-1600 kits. The best of the two happens to run fantastic timings (as far as DDR3 goes for now) at 7-7-7-18 with 1.8V, very nice indeed for 1600MHz modules. Then there's the other 1600MHz rated kit, operating with slightly looser (but still quite reasonable) latencies of 9-9-9-21.
Another highlight of the new family is the introduction of a 2GB DDR3 module, up until now I hadn't spotted a 2GB DDR3 module yet (only 2x1GB kits). This module is designed to operate at up to 1333MHz with 8-8-8-18 timings at 1.8V.
Price wise, it's not surprising this early in the picture that they're touching the sky. The single 2GB (W1333UB2G8) module will retail for a whopping $417. So if you're rubbing your hands in glee at the thought of 4GB DDR3 on your P35, you'll need to cough up $834 first!
The official pricing on the flagship W1600UX2G7 2GB kit is $648, with the looser latency 2GB kit coming in at $598.
For further information, check out Super Talent's
press material here
folks.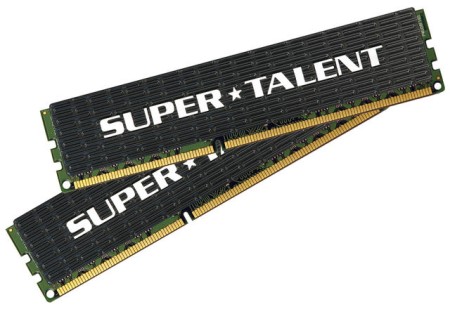 San Jose, California - July 3, 2007 -- Super Talent Technology, a leading manufacturer of DRAM memory modules and flash storage solutions, today launched three significant new DDR3 kits.

The W1600UX2G7 is a 1600MHz PC3-12800 2GB Kit (2x 1GB) that is tested at very aggressive 7-7-7-18 latencies at 1.8 volts. The W1600UX2G9 is a 1600MHz PC3-12800 2GB Kit (2x 1GB) that is tested at 9-9-9-21 latencies at 1.8 volts. Super Talent tests both these kits as a matched pair on a dual channel Asus P5K3 Deluxe motherboard. These kits are built with the newest gigabit IC's, using eight pieces of 128M x 8 chips to produce a single-sided module. According to Super Talent Marketing Director, Joe James, "These kits were designed to shock hardcore tweakers and performance enthusiasts into a state of awe. Some of these kits have broken the 2000MHz barrier in our Compatibility Labs.