Up close and personal with Shuttle
A visit to the home of the XPC.
Published Jul 4, 2007 2:14 AM CDT
|
Updated Tue, Nov 3 2020 12:39 PM CST
Yesterday, yours truly headed over to the Shuttle HQ here in Taipei for a visit to bring you the latest news of what Shuttle is working on and what will happen over the next few months. There has been a lot of turmoil about Shuttle recently and there have been some rumours about the company being sold, but they're not true according to the people we've spoken to. Shuttle is refocusing its product development and it is moving away from some of the low cost products it launched last year as they proved to be uncompetitive.
The good news is that Shuttle has a solid launch schedule of new products that will be arriving in a steady stream over the next couple of months, with the first products appearing later this month. Shuttle also has a new marketing team onboard and is focusing on making its products better than ever. A wide range of new features will be incorporated, some more useful than others, but it looks like Shuttle has no intention of giving up.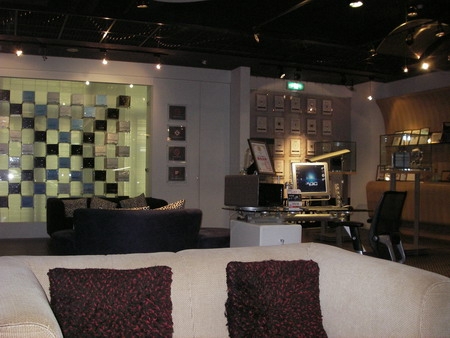 Let's start with some great news for those that already own an XPC. As you might be aware, it's impossible, or rather, it has been impossible to upgrade these systems beyond what it comes with, well, this isn't the case anymore, as Shuttle is going to offer motherboards and other parts to allow people to upgrade their systems. There will be information on the Shuttle website about what system can be upgraded with what parts once this project launches, but no exact time was given on when Shuttle will launch the upgrade kits.
If you read our Computex coverage last month, you'll know that Shuttle has an X38 based XPC coming, well, in fact Shuttle has two models, but the first one will be the SX38P2 Pro with a Deluxe model following later. Although the board that was displayed during the show and even the one shown yesterday only has a single x16 PCI Express 2.0 slot the final production model will have two of these slots which means that it will work with CrossFire.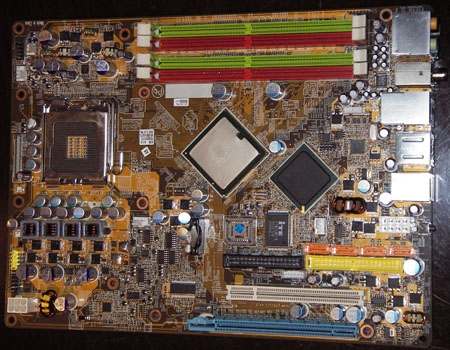 The second generation of X38 XPC, the SX38P3 Deluxe will feature a digital PWM as well, which should make it run even cooler and with Shuttle spending a lot of time and effort on making its high-end XPC's more overclocking friendly due to popular demand, this should hopefully allow overclockers to get the most out of their XPC.
On the same topic, Shuttle is going with solid capacitors on all its boards and the high end products will start using the Shuttle Oasis heatpipe cooling solution for the chipset. This should again appeal to the performance users and it's far from the only new features that Shuttle is working on.
Several of the new models will come with something Shuttle calls Speed-Link, which is a special USB port that works like a network interface. Plug in a USB cable into one of the front USB ports on your Shuttle, press a button behind the flap to enable Speed-Link, plug the other end into another PC and you have a 480Mbit network connection. The great thing with Speed-Link is that it's all done in hardware, so there's no need to install any drivers on either system.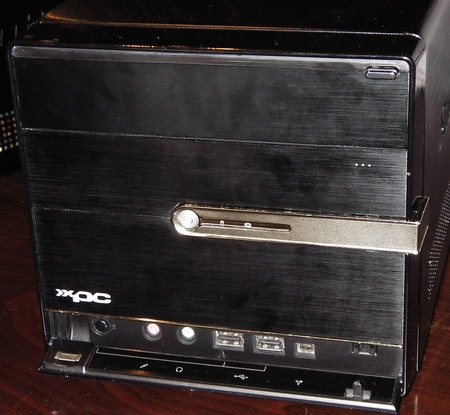 Shuttle has also incorporated a finger print scanner into the flap on the front on many of its new XPC models. The finger print reader can be used instead of password for logging into Windows, accessing the web and it comes with file encryption software.
The first two models we should see from Shuttle are the SG33G5M Deluxe and the SN68PTG6 Deluxe. The first one is based on the Intel G33 chipset and it has HDMI output as well as a built in VFD and it's part of Shuttle's D'VO series of media center ready XPC's. It comes with a remote control and it has built in Wi-Fi and Bluetooth. You can check out the SG33G5
here
, although it doesn't have some of the features of the Deluxe, it shares the same motherboard.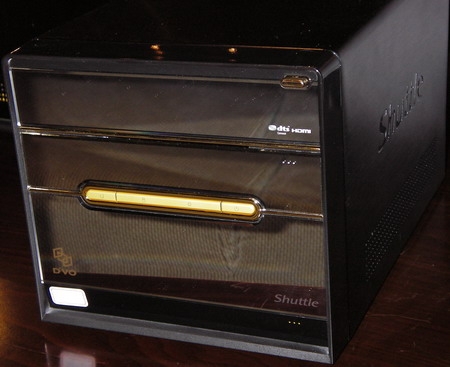 The SN68PTG6 is using the new G6 chassis and is an AMD system with support for the upcoming AM2+ CPUs. It's based on the Nvidia GeForce 7050 PV chipset. It shares a lot of features with the SG33G5 Deluxe, although it lacks the VFD and remote control. Both models feature Speed-Link and the Finger print scanner.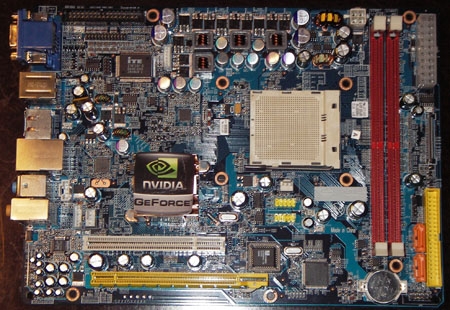 Next month we should see the arrival of the SP35P2 Pro which is based on the Intel P35 chipset and it is housed in Shuttles P2 chassis, just as the SX38P2 Pro. This will be the main model without integrated graphics from Shuttle and it should be a fair bit cheaper than the X38 based model, although it shares many of its features. Both the SP35P2 and the SX38P2 Pro has one feature that wasn't announced at Computex, a mini PCI Express slot. This is the same kind of slot used in notebooks.
You might wonder what the importance of this is, well, considering that the SX38P2 Pro doesn't have any PCI expansion slots, the mini PCI Express slot allows for various upgrades to be added. Shuttle was talking about the possibility of adding mini PCI Express TV tuners or Intel Robson modules. You could of course add a Wi-Fi module as well, but as Shuttle already offers an internal USB solution for this that ships as standard with both of these models, it's hardly any point in doing this.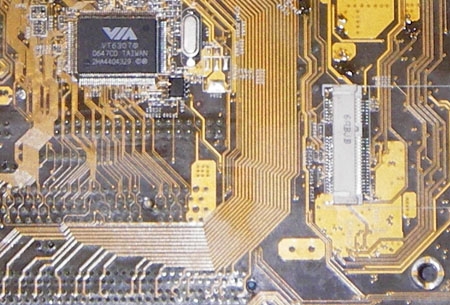 The SX38P2 Pro will be available in September, as Intel isn't launching the X38 chipset until then, so if this is the model you're waiting for, then you're going to hang on a little bit longer. Shuttle has more products planned for this year and we'll keep you posted as and when this happens. But for now, rest assure that Shuttle won't be disappearing anytime soon and that they're hard at work to bring you the best small form factor PCs on the market.
We'd like to thank Shuttle for taking the time to sit down with us and have a talk about its upcoming products and features.