HP launched no less than nine new compact digital cameras today, an extensive new line up to say the least. The one that looks the most striking is the new Photosmart R937, as it has a rather odd looking centre mounted lens and a 3.6-inch touch screen display. It also features an 8Mega pixel sensor, anti-shake mode, 32MB of built in memory and 3x optical zoom. It's expected to cost around US$300 when it arrives in August.
Next up is the Photosmart R847 which shares the 3x optical zoom 8Mega pixel sensor, 32MB of built in memory and the anti-shake mode, but doesn't have a touch screen. It should retail for around $230, also in August.
Then we have the entry level Photosmart E337 which is a basic 5 Mega pixel point and shoot model with a 1.5-inch display and 16MB of internal memory. At $80 this is quite a bargain, but don't expect too much from it. It will be available from next month.
The next three cameras are very close siblings and are called the Photosmart M447, M547 and M637 and they all share the same design. In order they feature 5, 6.2 and 7.2Mega pixels. All models have 3x optical zoom and a 2.4-inch LCD display as well as 16Mb of internal memory. The M447 will cost $100, the M547 $110 and the M637 $150 when they become available in August.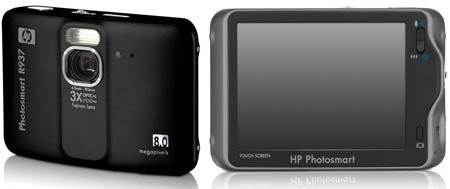 The Photosmart Mz67 is the only one of the new models to feature better than 3x optical zoom and it has a 6x zoom. It's an 8Mega pixel unit with a 2.5-inch LCD display, anti-shake mode and 16MB of built in memory. It'll cost a rather affordable $200 considering its specifications and it will also be available in August.
Second to last we have the Photosmart M737 which again has 8Mega pixels, a 2.5in LCD display, 3x optical zoom, anti-shake mode and 16MB of built in memory. It should be available in August for $180.
Finally we have the Photosmart M742 which is the slimmest model of the nine, it's only 7Mega pixels (yes, only...), has a 2.5in LCD display, 3x optical zoom, 16MB of built in memory and it should cost $180 in August.
Common between all of the new cameras is that they accept SD cards for memory expansion. It's hard to pick which one to go for, as they all look like pretty good value for money to us. You can find out more by clicking
here