CoolIT Liquid Cools HD 2900 XT
Top-end cooling for HD 2900s.
Published
1 minute & 0 seconds read time
CoolIT Systems have entered the market with a bang, producing the first reference series
liquid cooling solution
which is capable of keeping HD 2900 XTs in CrossFire configuration mighty cool (providing for very nice overclocks).
The system itself is a rather clever factory sealed maintainence free single slot design.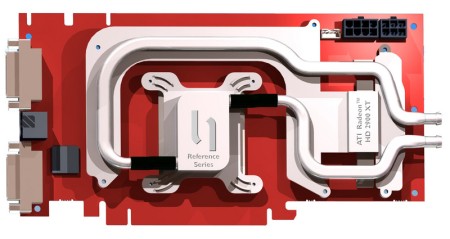 In demonstration of its awesome performance, CoolIT have overclocked a HD 2900 XT platfrom in CrossFire mode (using a DFI Lanparty ICF 3200 motherboard and Intel QX6700 Quad core CPU) in conjunction with their new liquid cooled system, and dished up a kickarse 3DMark06 score of 20,016. The cards were running with a core speed of 950 MHz and memory speed of 980 MHz at the time. For a good idea of the performance gains, a stock run produced a score of 17,405.
You can
see the results for yourself
by checking out a video made by Coolit, posted on YouTube.
Geoff Lyon, CEO of CoolIT Systems comments "By working together with AMD, we've been able to create an advanced liquid cooling system with the ability to effectively and quietly dissipate a tremendous amount of heat and will allow the performance computing community to achieve previously unattainable performance while maintaining safe, stable temperatures. The universally compatible compact form factor fits in a dual 5¼" drive bay and installs in any chassis quickly and easily. Additionally, the liquid cooling card assembly reduces the ATI Radeon HD 2900 XT graphics card to a single PCI Slot size enabling the use of up to 4 cards if the mother board supports it."