We all know about the mess that has been the NVIDIA GeForce RTX 30 series launch, so it's good to hear rumors that AMD has been listening -- taking notes -- and preparing better the historic launch of its new Ryzen 5000 and Radeon RX 6000 series products.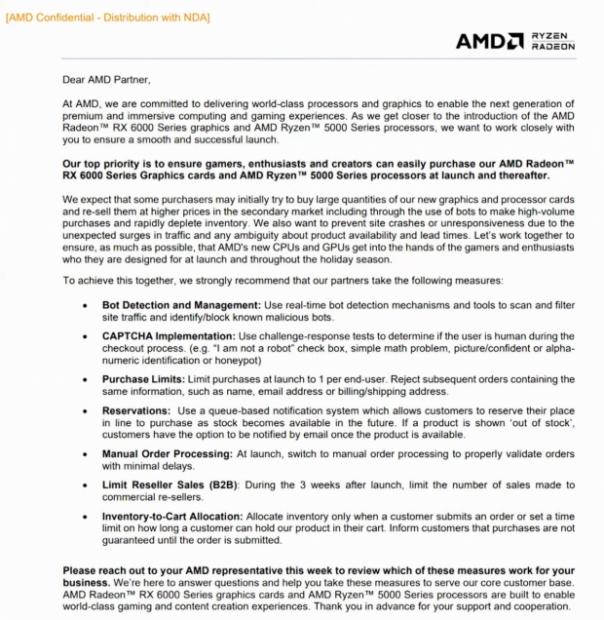 The news is coming directly from RedGamingTech on YouTube, which had a document that is reportedly from AMD and sent to their partners to curb scalpers from ripping the Ryzen 5000 and Radeon RX 6000 series launch to shreds. It's great to see AMD making these moves ahead of time, a luxury they get to enjoy since they're launching after NVIDIA.
AMD has the following rules in place:
Bot Detection and Management: Use real-time bot detection mechanisms and tools to scan and filter site traffic and identify/block known malicious bots.
CAPTCHA Implementation: Use challenge-response tests to determine if the user is human during the checkout process. (e.g.. "I am not a robot" check box, simple math problem, picture/confident or alpha-numeric identification or honeypot)
Purchase Limits: Limit purchases at launch to 1 per end-user_ Reject subsequent orders containing the same information, such as name, email address, or billing/shipping address.
Reservations: Use a queue-based notification system that allows customers to reserve their place in line to purchase as stock becomes available in the future. If a product is shown 'out of stock', customers have the option to be notified by email once the product is available.
Manual Order Processing: At launch, switch to manual order processing to properly validate orders with minimal delays.
Limit Reseller Sales (B2B): During the 3 weeks after (AMD Ryzen 5000 / Radeon RX 6000) launch, limit the number of sales made to commercial resellers.
Inventory-toe-Cart Allocation: Allocate inventory only when a customer submits an order or set a time limit on how long a customer can hold our product in their cart. Inform customers that purchases are not guaranteed until the order is submitted.