Oculus founder Palmer Luckey reportedly invested some of his money in SideQuest. This marketplace sells Oculus Quest apps that aren't approved for sale on Facebook's official Oculus Store.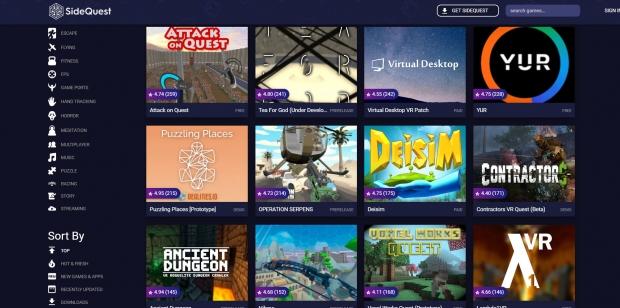 Facebook treats the Oculus Quest as somewhat of a gaming console. It's a self-contained gaming device that's tethered to a platform-specific marketplace, just like an Xbox or PlayStation console. Facebook would prefer that Quest owners buy all their content through the Oculus Store, and the company goes through great lengths to ensure that every title on its store offers a high-quality experience.
Not every app meets Facebook's requirements, and when that happens, developers don't have much recourse. That happened to the founder of SideQuest, Shane Harris, when he submitted his title to the Oculus Store. The rejection inspired Harris to create the SideQuest marketplace as an alternative distribution solution for content that Facebook doesn't want to sell.
The SideQuest platform attracts hundreds of thousands of monthly users, and it offers both free and paid content. SideQuest adheres to Facebook's terms of use by not taking a cut of the revenue from content sales. The proceeds for all games sold on SideQuest goes directly to the developers.
SideQuest's recent round of funding totalled $650,000. $500,000 came from the BoostVR accelerator and an additional $150,000 from The Fund and Palmer Luckey. Luckey's stake in the company is undisclosed.
"No HMD manufacturer should have a stranglehold on the VR ecosystem or unilateral control over what people run on their VR headsets, and when I look at Sidequest, I see the spirit of Oculus Share," Luckey said in a statement given to TechCrunch.
SideQuest said it plans to use the money to expand its team and build additional features for the SideQuest platform.