New Jedi: Fallen Order update lets you make custom sandbox levels
Respawn drops a free content update that adds tons of new content to Jedi: Fallen Order, including a horde mode.

Published Mon, May 4 2020 12:32 PM CDT
|
Updated Tue, Nov 3 2020 11:43 AM CST
Hello there! Today's Star Wars Day, and Respawn just released a free content update for Jedi: Fallen Order that lets you set up your own horde mode battles on-the-fly.
The new Jedi: Fallen Order update is pretty ambitious. It centers around the Jedi power fantasy combat Respawn baked into the game--it's easy to use but hard to master--and basically lets you test your ultimate lightsaber skills. In Combat Challenges, players can jump into quick offline matchmaking-style arena battles against a set number of foes. It's basically a survival horde mode where you try to complete objectives like no healing or not taking damage and, of course, destroy everyone in your path.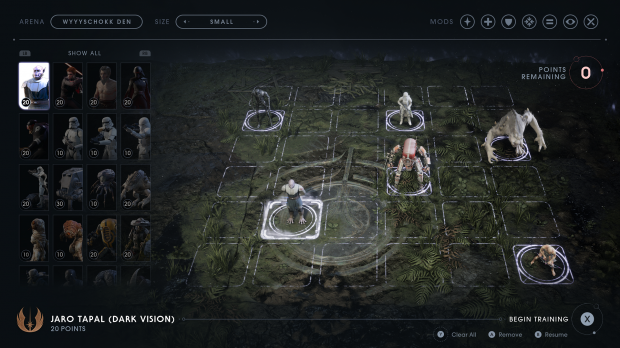 The second mode, the Battle Grid, basically lets you create and plot out your own battles. It's like Fight Club, only in Star Wars. You can pick what enemies you want to fight, where you want to fight them, and lay out a progression scheme point system. Respawn is basically letting you make your own game here, and the grids can even be saved for later use. It's a great way to keep engagement flowing in a singleplayer-only game.
The new modes can be found in the new Meditation Training section of the game, but you have to beat the game first to unlock it.
Speaking of beating the game, the new update also adds NewGame+ to the mix, letting players replay and jump back into the game for some Uncharted-style action-adventure. Everything you unlock--abilities, gear, cosmetics, etc--all carry over to the new save.
Cal also gets access to a new Dark Side Inquisitor outfit, complete with a red lightsaber...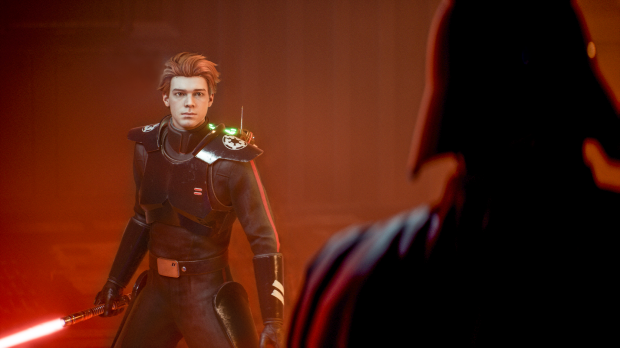 The update is now live on all platforms so be sure to check it out. Here's more info on the new combat modes straight from Respawn:
New Journey + added

Unlocked after beating the game

All cosmetic unlocks are carried over

All lightsaber colours are available from the start

Exclusive dark side-themed cosmetics available in NJ+

Inquisitor uniform

Protection and Defence I & II lightsaber parts

Red kyber crystal

Meditation Training game modes added as part of NJ+

Combat Challenges

Wave-based game modes to fight against preset enemies

Battle Grid

Sandbox-style game mode for players to make their own encounters

Cosmetic rewards for BD-1

Combat Challenges

Combat Challenges will pit Cal against waves of enemies across multiple planetary backdrops from across the galaxy, including the Imperial stronghold Fortress Inquisitorius. Each unique location will feature its own unique challenges, too, allowing for tailor-made experiences that draw from each environment. Different challenges will have different numbers of waves and each will have a three-star completion rating.

What makes these challenges especially unique is that they've all been designed for veteran players. They're designed to be tackled when Cal is at his strongest and most experienced towards the end of the game, so be wary if you decide to take on challenges early in a playthrough. The abilities Cal knows at the time of entering his meditation will be the ones you take into a challenge.

There are 12 challenges in total and each challenge has three stars. Unlocking twelve stars in total, regardless of how many you get per challenge, will give you three new BD-1 appearances.

Star 1: Complete the challenge

Star 2: Complete the challenge without healing

Star 3: Complete the challenge without taking damage

Battle Grid

The second mode in Meditation Training is called the Battle Grid. This mode is a sandbox for players to create their own encounters. In it, players will be able to select a location, the size of the encounter they want to face, tinker with various difficulty modifiers, and set the overall combat difficulty to one of the four difficulty levels.

There's a lot of room for creativity within this mode and you'll also be able to save your grid creations to play later. As an added bonus, this mode will also feature unique enemies Cal saw during the dark visions of his past and future: his fallen Master Jaro Tapal as well as the dark side version of himself, Inquisitor Cal Kestis!
Related Tags