"Twice the performance of R580"
- from AMD...
A little birdie recently sent some in-depth roadmap information into our inbox regarding AMD's upcoming R600 series of graphics cards including Radeon X2900XTX, X2900XT and X2900XL.

The big daddy of them all, the Radeon X2900XTX (codenamed Dragons Head 2 in 9.5" size XTX configuration with GDDR4 memory), is due to hit shop shelves on 30th of March 2007 but it's still unsure if they will actually make that date. Samples were already delivered to AMD's partners last week and many companies will likely have R600 live demos on display at CeBIT. The Radeon X2900XT (codenamed Cats Eye also measuring 9.5" but with GDDR3 memory and reduced clock speeds about 15% below XTX) will hit shop shelves on 19th of April. Dragons Head 2 is actually already well into production and product will be delivered to AIB's in just a few days from now. After many revisions, it seems like AMD have finally got things right and are satisfied with production output - Rev90 it is.
The original and monster Dragons Head measuring 12.4" long will still be sold but recommended just for OEM and system integrators. AMD will also release the Radeon X2900XT and X2900XL sometime in April with reduced clock speeds and only 512MB GDDR3 memory. The Radeon X2900XTX will use faster 1GB GDDR4 memory operating at over 2000MHz DDR using a 1024-bit internal memory bus and 512-bit physical memory interface.

The Dragonshead 2 which will become the card that you can actually buy will draw a maximum of 240 watts which is much higher than first speculated. If you're interested in running Crossfire, that's a total of 450 watts just for your graphics cards and it's no wonder we are starting to see consumer power supplies above 1000w hit the market now. The power will supplied by 1 x 6-pin and 1 x 8-pin PCI Express connector and the coolers used are dual slot configuration. AMD reckon R600 is going to kick ass, here's what they personally think;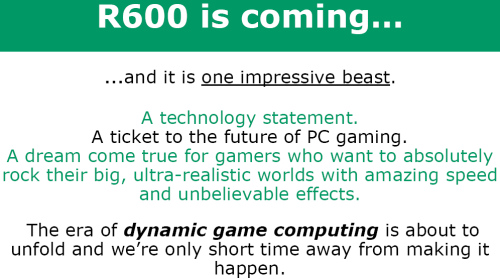 UPDATED - Publishing error about power connectors and GPU revision, fixed.