ThermalTake are claiming they have the world's first VGA water block for nVidia's GeForce 8800 range of graphics cards. If you looking at adding water cooling to your new GTS or GTX card, check out the TMG ND4 from ThermalTake.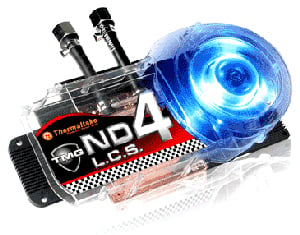 Thermaltake Technology, world's leading brand in high-performance chassis, high-efficiency power supply and coolers, today announces the introduction of world's first waterblock for Nvidia GeForce 8800GTX graphic card. TMG ND4 is a revolutionary product founded on Thermaltake's current TMG line of products to incorporate ultra-high performance with incredibly silent operation in order to achieve the ultimate gaming experience.

Custom tailor designed for Nvidia GeForce 8800GTX, TMG ND4 VGA cooler utilizes state of the art Brazing Technology to weld waterblock with all copper cold plate. Coupled with high density stacked fins for faster heat convection with surrounding cool air, TMG ND4 not only cools the main GPU, but the GDDR3 memory as well. Low-Noise fan on the edge of TMG ND4 provides additional concentrated and high-press airflow across the dissipating fins.

TMG ND4 is fully compatible with all Thermaltake liquid cooling system as well as any aftermarket solutions thanks to its multipurpose quick connectors that can be interchanged to support 1/4"(6.4mm) and 3/8"(9.5mm) diameter tubing. The thoughtful design and performance-minded features of TMG ND4 will undoubtedly bring ultimate gaming experience that gamers across the world has been searching for.