China #1 in CPUs: Zhaoxin plans CPUs with PCIe 4.0 and DDR5 for 2021
At this rate, China's Zhaoxin would trump Intel and catch up to AMD incredibly quick.

Published Mon, Dec 16 2019 8:16 PM CST
|
Updated Tue, Nov 3 2020 11:45 AM CST
AMD has been on the fresh new 7nm node for a few months now, pumping out a bunch of Zen 2-based EPYC, Ryzen Threadripper, and Ryzen CPUs -- as well as a slew of new Navi-based Radeon 5000 series cards. Intel has struggled, to say the least, to get to 10nm let alone 7nm.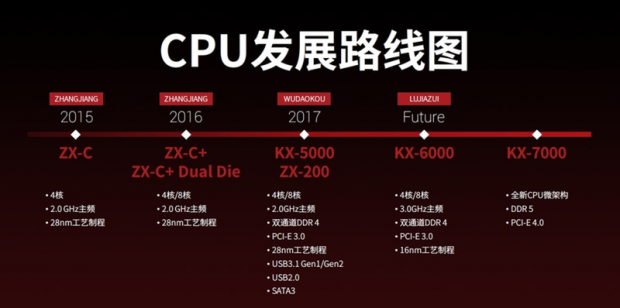 But now it seems there will be another competitor in 7nm space with Chinese company Zhaoxin its new KX-7000 processor coming up next, using an unannounced CPU architecture and built on the 7nm node with an integrated GPU. The new Zhaoxin CPU will have a GPU that has DX12 support, and features PCIe 4.0 and DDR5 technology support.
Zhaoxin has its KaiSheng series CPU which rocks up to 32 cores, and is made on the older 16nm node... but the company has plans to offer up to 32C/64T on its new server CPU offerings. This will bring Zhaoxin up to the same level as AMD's current Ryzen Threadripper CPUs, leaving AMD to dominate the server CPU game with its Zen 2-based EPYC range of processors.
AMD Ryzen 7 3700X 8-Core, 16-Thread Unlocked Desktop Processor (Ryzen 7 3700X)
Related Tags