Battleborn isn't dead just yet, but Gearbox is winding down to prepare for the game's retirement in 2021.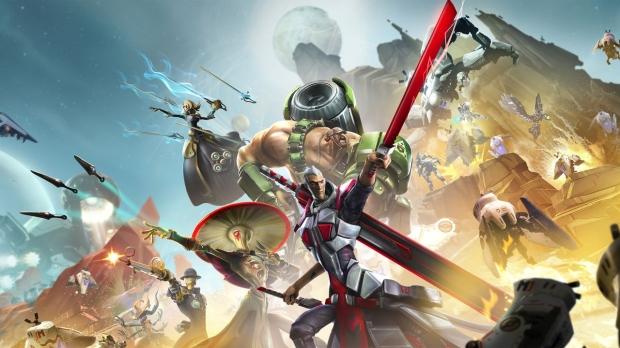 Gearbox today confirmed that its failed hero shooter Battleborn will go offline in January 2021. As of now the game can no longer be purchased from any digital store, including Steam, PS Store, and Xbox LIVE, so if you want to play you'll need to find a physical copy.
Oddly enough, the devs are turning off Battleborn's microtransactions on February 2020 and the game will no longer receive updates. Battleborn will be playable until then, but once the servers are down, the game is dead for good. Gearbox and 2K tried all sorts of tactics to re-invigorate Battleborn's failing userbase, including a free-to-play trial mode (which is no longer available). Ultimately nothing worked and gamers simply stuck with established hero shooters like Overwatch instead.
Here's the official announcement from 2K Games:
Battleborn has been removed from digital storefronts, and we are now in the process of gradually sunsetting the game to focus our efforts and resources on other projects.

So, what does that mean? At the moment, you won't see any effect if you own a copy of the game. But there are some things you should be aware of:

After February 24, 2020, you will no longer be able to purchase premium virtual currency ("Platinum") for use in the game.

The game's servers will remain active and the game will continue to be playable until January 2021.

Once servers are deactivated, Battleborn will no longer be playable.

Once platinum stops being sold, can I still spend the in-game currency I already have?

Yes, you can still spend any virtual currency (both Platinum and the coins you earn through gameplay) you have in your account until the game's servers shut down in 2021. You can still grind for it in the game, too, you just won't be able to directly purchase it anymore.

Are you taking any features offline when you stop selling Platinum?

Nope! Nothing else in the game will change until January 2021, when the servers go offline.

Will I still be able to play Battleborn in any fashion (e.g. the single-player campaign, peer-to-peer games) after the servers go offline?

No, once the servers are offline in January 2021, Battleborn won't be playable in any way.