Final Fantasy 7 Remake lets you upgrade weapons, add materia slots
Square Enix adds tons of RPG progression systems into FF7 Remake, including weapon upgrades and adding materia slots.

Published Mon, Nov 25 2019 4:04 PM CST
|
Updated Tue, Nov 3 2020 11:46 AM CST
Square Enix today revealed a bunch of new details on Final Fantasy 7 Remake's systems, including weapon upgrades and materia.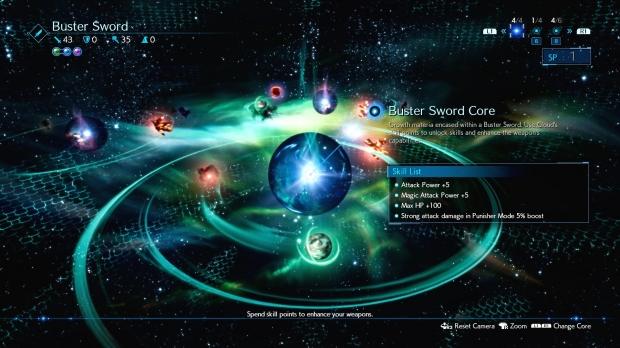 Final Fantasy 7 Remake is shaping up to be the ultimate RPG, complete with massively replayable customization, progression, and action-packed battles. Square Enix wants to ensure the game keeps players busy for a long time, so they've devised a unique progression system around weapons and items. Each weapon has its own little tree of unlockables, complete with passive bonuses and extra materia slots.
It looks like every item has a "core" that can be leveled up. For example, upgrading the Core slot for Cloud's Buster Sword will give passive boosts like extra HP, more damage, and stronger attack power. This mechanic will be present for every weapon (and possibly every equippable item that has materia) for every character. If you've ever played the original Final Fantasy 7, you know there's a ton of items, so the possibilities here are huge.
Every weapon also has unique bonuses and unlocks specific abilities in battle. This means materia isn't your only source for non-basic attacks--the weapons themselves come enchanted or imbued with specific combat skills.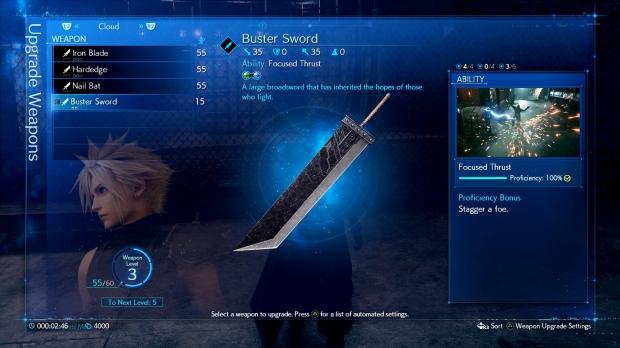 Read Also: Final Fantasy 7 Remake combat: everything you need to know
The more you use a certain weapon, the more it levels up. The same is true for a weapon's innate combat ability. For example, Cloud's Buster Swords unlocks the Forward Thrust ability. The more you use Forward Thrust, the more you level it up, and when it hits max level you'll get an extra bonus.
Gamers can upgrade weapons with Skill Points (SP) gleaned from battle, adding more bonuses and even expanding materia slots.
Here's what Square Enix says:
"Each weapon has its own unique weapon abilities that increase in proficiency the more they are used. When an ability's proficiency level reaches the maximum, that ability is then learned by the wielder and can be used when wielding any weapon.

"The different weapon upgrde options allow you to improve the wielder's status or increase the number of Materia slots available."
This shift is pretty huge and lays the foundation for the entire game's RPG and combat system. Gamers will have tons of variety and opportunities to mix-and-match materia, abilities, and unlockable stats to maximize their builds.
Remember this is true for every character, not just Cloud. The entire party's weapons can be upgraded in this way. There should be a whole galaxy and new dimension of gameplay possibilities as the game expands into its second episode.
Insofar as combat, Square Enix also delved deeper into the Remake's action-based philosophy. It's not just about making a game like Final Fantasy XV or Devil May Cry; the FF7 Remake had to preserve the original's RPG mechanics while marrying the new enthralling Luminous Engine-powered slice-and-dice action.
"Production was completely different than that of a pure action game, and the need for new design philosophy often arose. Production involved constantly searching for the best balance between action and command elements, but I believe we've managed to do this in an exciting new way," said Teruki Endo, battle director for FF7 Remake.
"In order to create battles that are surprising and never boring, we worked hard to create a variety of strategic elements for each boss and enemy. Also, in constructing battle systems for each character, we wanted to respect the image of the original version while additionally introducing many new abilities. I hope you're able to find your own style of battle by combining those abilities with Materia."
Square Enix also confirmed Final Fantasy 7 Remake's second episode is currently in development. It'll be more ambitious than the Midgar-based first chapter, which releases on March 3, 2020 on PS4.
Related Tags