1.5 Million Threads! AMD-powered Archer 2 with 12,000 EPYC Rome CPUs
AMD and the CRAY team have brought a suitable replacement to the original Archer supercomputer which deployed in 2013.

Published Tue, Oct 15 2019 3:52 PM CDT
|
Updated Tue, Nov 3 2020 11:46 AM CST
There has been tons of news around AMD's new 7nm, and Intels fight to retain market share over the past months. Today this article is all AMD as they worked with CRAY to create something truly insane.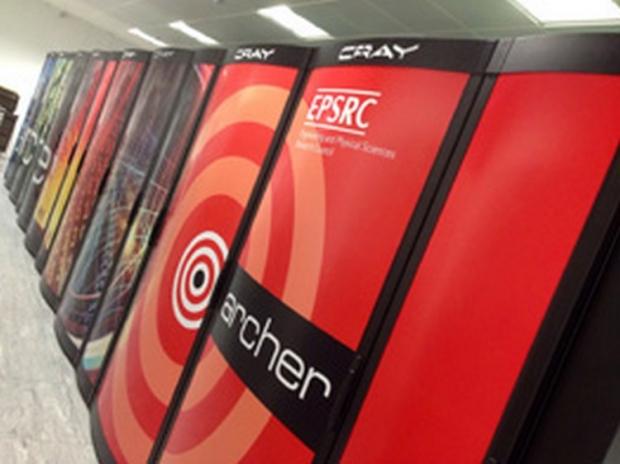 UK Research and Innovation (UKRI) has once again contracted the team at CRAY to build their follow-up to the Archer supercomputer. Archer 2 is reported to offer up to 11x the throughput of the previous Archer supercomputer put into service back in late 2013.
Archer 2 is going to be powered by 12,000 EPYC Rome 64 Core CPUs with 5,848 compute nodes, each having two of the 64 core behemoths. The total core count is 748,544 ( 1,497,088 threads) and 1.57PB for the entire system. The CPU speed is listed as 2.2GHz, which we must assume they are running off of the base clock, so that would be EPYC 7742 CPUs with a 225W TDP. These sorts of specs are insane but also will make some significant heat. Archer 2 will be cooled by 23 Shasta Mountain direct liquid cooling and associated liquid cooling cabinets. The back end for connectivity is Cray's next-gen slingshot 100Gbps network compute groups.
AMD GPUs are part of this array, but the information I have not found yet on which GPU units from AMD will be used. Estimated peak performance is 28 PFLOP/s and the transition for the Archer to the Archer 2 will begin in Q1 2020 and be completed late 1H 2020 as long as things go as planned.
What would you do if you had the power of Archer 2 for a single day? *insert 'Can it play Crysis' joke here*
Related Tags