What happens when a city is Nuked? Just every natural disaster at once
Here is what happens if a city meets the unfortunate encounter of a nuclear explosion.
Published Oct 14, 2019 1:10 AM CDT
|
Updated Tue, Nov 3 2020 11:46 AM CST
1 minute & 32 seconds read time
Humans have undoubtedly created some quite questionable weapons in our time, and nuclear weapons are definitely within the top five of that category. So what exactly happens if one was to be launched at any city on the planet?
Above we have a new video from Kurzgesagt - In a Nutshell, they explore the affects of a Nuke hitting a downtown city, and how the events of that explosion would roll out on the residents. Firstly, one millisecond after the detonation a 2km wide ball of plasma hotter than the sun erupts from the center of the blast zone, evaporating everything within its radius.
The light that's emitted from the blast is so hot it produces a thermal pulse which burns anything that is able to burn within 500 squared km, or a 13km radius. As the explosion progresses, a bubble of super heated and super compressed air begins to rapidly expand faster than the speed of sound, decimating most already burning buildings, people and anything else in its way. Then a mushroom cloud made from rubble, fire, dust and ash erupts from the center and rises kilometers into the sky, drawing in an abundance of oxygen fueling the already burning fires.
Emergency services will have an extremely difficult time coming to immediately assist survivors, as radioactive dust and oxygen poisons anyone who enters the city. Every breath survivors take brings their lives closer to an end, as they fall victim to an overexposure of radiation. Those lucky enough to survive the initial blast are extremely likely to develop cancers later in life such as leukemia.
Kurzgesagt finalizes the video by suggesting that the results of nuclear explosions on cities is much to devastating the bear, whether your are on the firing end or not. They also suggest that a solution to this problem is to entirely remove all nuclear weapons from the planet, if you agree with them you can sign the petition pushing for just that here.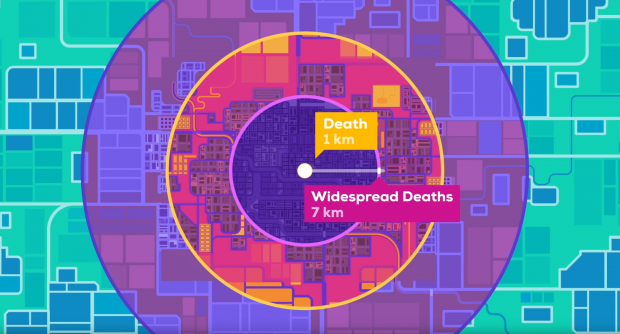 Related Tags