Meet Apex Legends Season 3's newest legend, 'Crypto' and his OP drone
Crypto is now live on the Apex Legends servers, lets take a look at him.

Published Wed, Oct 2 2019 8:05 AM CDT
|
Updated Tue, Nov 3 2020 11:47 AM CST
Respawn Entertainment has released the newest season for Apex Legends, and accompanied with all the new skins and map, we have a brand new character.
Above we have the introduction video released on the official Apex Legends YouTube account, it gives us a very brief lore overview of why Crypto has joined the Apex Legends. The video then goes into what players can expect ability wise, and since Crypto is one of the most elite hackers in the Outlands he has the pleasure of being able to use his drone to locate enemies.
When the drone is used the camera is changed from Crypto's point-of-view to what the drone is looking at. Players can fly the drone around the map and locate enemies, once the drone has spotted some enemies it will mark them for the entire team to see. This feature is his passive called 'Neurolink' which grants teammates and Crypto vision of marked enemies through walls up to 30 meters.
His ultimate ability is an EMP that disables any traps that are in the area and shreds shields while also slowing enemies. The EMP's source is from the drone itself, so as Crypto player I'd use it in confined spaces that enemies have fortified. It should also be noted that drone can be shot down and destroyed with one bullet from any gun.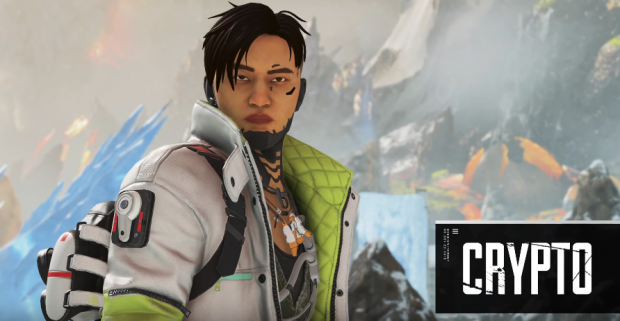 Related Tags