AMD's next-gen Zen 3 rumor: 4 threads per core enables 64C/256T chips
AMD Zen 3 architecture rumored to support 4 threads per core with SMT4.

Published Thu, Sep 26 2019 9:56 AM CDT
|
Updated Tue, Nov 3 2020 11:47 AM CST
Prepare the salt shakers because this rumor is a doozy -- AMD's next-gen Zen 3 architecture reportedly features massive changes to its SMT capabilities that would enable 4 threads per core.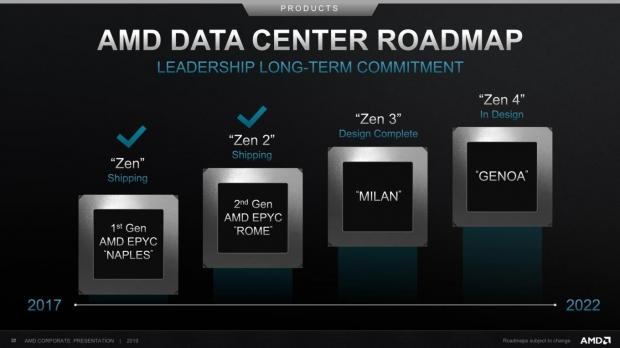 This means Zen 3 processors with 64 cores could have up to 256 threads, something that would be quite the leap from AMD compared to the current EPYC Rome CPUs with 64C/128T max. The 4 threads per core processors would be perfect for the data center and HPC markets, and would pave the way for gigantic performance improvements from all those threads.
4 cores per thread isn't exactly new, with IBM supporting it with its Power CPU architecture supporting a huge 8 execution threads per core. AMD would, however, be the first with 4 cores per thread on an x86 micro architecture.
Software needs to catch up and support 256 threads per CPU, but in the data center and HPC markets this is already common. As for gamers, we wont' see the benefits of this until game developers really begin stretching out and using 16 threads... let alone 256 threads.
AMD Ryzen 9 3900X 12-core, 24-Thread Unlocked Desktop Processor (Ryzen 9 3900X)
Related Tags