Sony now commands Insomniac's full IP library, including Sunset Overdrive. But Microsoft might still own the publishing rights.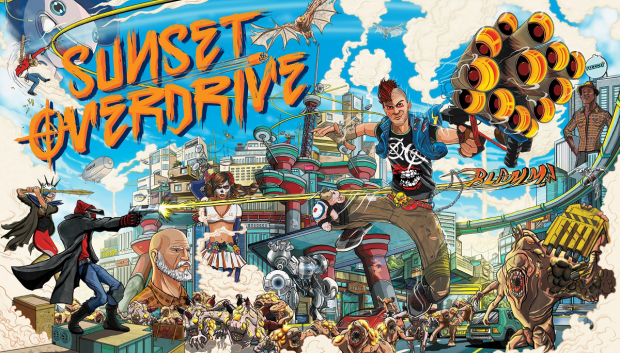 Now that Sony wholly owns Insomniac Games, the company has access to the games-maker's fleet of IPs. Sony's Shuhei Yoshida underlined the news, giving hope to Sunset Overdrive fans who've been clamoring for a sequel. "SIE holds the rights to past Insomniac works. Do gamers want to see Sunset Ovedrive on PlayStation?" Yoshida said in an interview with Inside Games.
But there's one potential fly in the ointment. Sony might own the IPs themselves now that Insomniac is a first-party studio, but they might not have the other missing half of the puzzle: publishing rights. Sunset Overdrive was a Microsoft-published game on Xbox One, meaning Microsoft owned the publishing rights. We're not sure if the rights have reverted back to Insomniac yet. If they have, a sequel could happen, and we could see the first game drop on PS4. If not, then Microsoft will sit on the rights until they expire.
Microsoft and other publishers have a history of sitting on these rights to ensure sequels don't get made. Reasons include profitability and cost of development. For example, Microsoft sat on the publishing rights for Alan Wake for years and years. That's why there never was an Alan Wake 2.
Remedy only just recently got the publishing rights back to Alan Wake and now that they own both the IP and pub rights, they can make a sequel.
The only thing preventing it is funding, and they'll likely have to surrender publishing rights again as a bargaining chip to get a sequel made. Remedy's deal to make its new IP Control gave 505 Games twenty years publishing exclusivity. So if Control doesn't do well, 505 could sit on the rights for the next two decades.
Thankfully Insomniac isn't indie any more. So anything they make is fair game for a sequel if Sony wills it, but that also brings its own set of trade-offs.
Right now we expect Insomniac will stay a Spider-Man dev studio and a sequel is probably in development for Sony's next-generation PlayStation 5.