Apple has finally unveiled its new iPhone, moving away from roman numerals and making a move to one-up Samsung by naming the new iPhone as iPhone 11.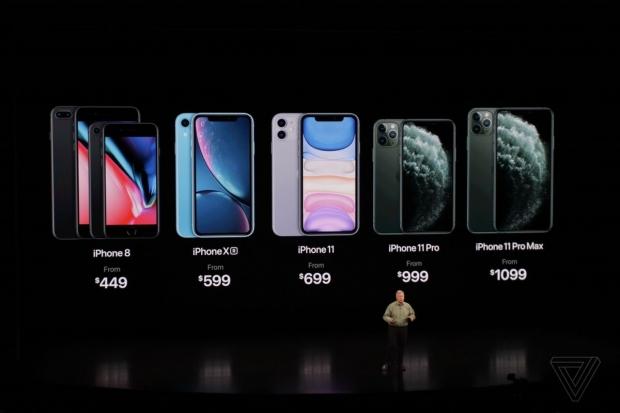 The new iPhone 11 family includes three variants: the normal iPhone 11, the higher-end iPhone 11 Pro, and the flagship iPhone 11 Pro Max. The iPhone 11 rocks a 6.1-inch display with the "toughest glass" on an iPhone yet, joined by a new dual-camera system on the back split into a 12MP wide-angle snapper and 12MP ultra-wide.
Apple says that the flash is 36% brighter, while it has a new night mode that taps adaptive bracketing for improved low-light shots. Front-facing camera wise the new iPhone 11 has a 12MP snapper (up from the 7MP snapper in previous-gen iPhones) which is capable of a crazy 4K 60FPS and slow-motion video.
Apple is powering the new iPhone 11 with its latest A13 chip, which (as always) the company says is the fastest CPU/GPU combination in a smartphone yet. Apple will be making the iPhone 11 in black, green, yellow, purple, red, and white and starts at $699.
The more exciting iPhone 11 Pro has a 5.8-inch display while the iPhone Pro Max rolls out with a 6.5-inch display, both powered by an A13 processor. Apple's higher-end Pro and Pro Max handsets have triple-camera rigs, adding a third 12MP snapper -- all 3 are 4K 60FPS capable.
Apple includes a new "Deep Fusion" feature that taps machine learning to improve low-light photos, the way this works is that the iPhone 11 Pro and iPhone 11 Pro Max cameras taking a bunch of short exposure shots before you press the shutter button.
Once the shutter button is pressed, it will take a single long exposure shot -- this is then blasted into a neural network that looks over the photo "pixel by pixel" and combines them into a high-quality, low-noise, detailed photo.
The new iPhone 11 Pro starts at $999, while the iPhone 11 Pro Max kicks off at $1099.