Gears 5 embraces the LGBTQPIA+ community with 19 in-game pride flags
Borderlands 3, Cyberpunk 2077 and now Gears 5 all embrace the LGBTQPIA+ community.

Published Thu, Sep 5 2019 11:51 PM CDT
|
Updated Tue, Nov 3 2020 11:47 AM CST
Gears 5 is right around the corner (my 8K benchmarks have just finished, expect that over the weekend) but now it has been revealed that Gears 5 is the latest AAA game to have in-game inclusivity for LGBTQPIA+ gamers.
The game has a playable female protagonist, which is a first for the Gears franchise, but it also packs a bunch of Pride flags that represents the various LGBTQPIA+ identities in the gaming community.
Twitter user @ashiinu spotted the 19 Pride flags in Gears 5, with the Pride flags being in-game banners that can be styled to your multiplayer character load out.
Gears 5 is just the latest big AAA title to be inclusive to the LGBTQPIA+ community, with Gearbox making similar moves with Borderlands 3 and CD Projekt RED with Cyberpunk 2077 allowing character creation to crazy degrees, but no option to choose your gender.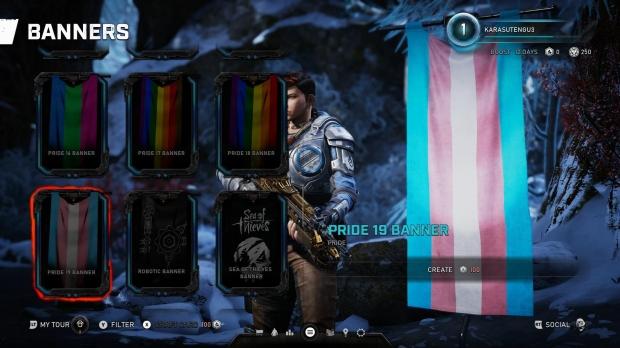 Related Tags