Doom 2016 gets demastered with old-school graphics
New standalone mod brings Doom 2016's chaos to old-school ripping and tearing.

Published Tue, Sep 3 2019 2:09 PM CDT
|
Updated Tue, Nov 3 2020 11:47 AM CST
What if Doom 2016 was made in in the 90s? Then you'd have this nifty mod that rips and tears like its 1993.
Introducing Doom 4 Vanilla, a new mod that basically demasters id's beloved 2016 shooter complete with weapons and enemies straight from the maws of rebooted hell. The mod is standalone but is also compatible with open-source Doom versions, and was made inside of Doom II. It brings that visceral old-school look and blends it with the chaotic fast-paced flow of Doom 2016, all without any jumping or crosshairs.
Doom 4 Vanilla is built around one simple premise: "Doom 2016...the way 1993 did it." You can download it here and check below for more info:
Features
New demon abilities:
Mancubi with flamethrowers, Revenants using jetpacks, charging Pinkies, insta-moving Summoners... all the good stuff!
Tough weaponry:
As the 2x faster Chaingun, the Super Chainsaw that can kill almost any demon, a "glory-killing" sequence of punches and weapons with faster animations. Visually, it's a mix of the original sprites by Neccronixis with some details from Franco Tieppo's version.
A refined set of enemy sprites:
At least a better job compared to my initial attempts from 2016, some of them reworked from scratch. You can see the full bestiary down here.
The Doom4mator:
An extensive change of texturesflats to set any map on a Doom 2016 mood, including foundries on the surface of Mars or Hellish canyons filled with toxic waste.
Powered by DMXOPL:
The amazing soundbank made by Csonicgo. Listen to a new selection of tracks (a few of them from Doom 2016) with improved OPL instruments. Perfect for some heavy djent riffs!
Unusual vanilla effects:
Brightmaps for sprites and textures
Blood splats on floors
A custom palette with vivid tones
New COLORMAP tint effects
Centered weapons when fired
Monsters with multiple abilities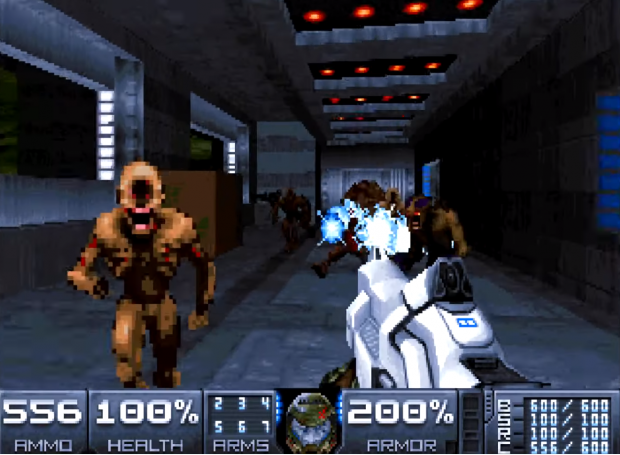 Related Tags