Intel Quartz Canyon NUC crams in Xeon CPU, high-end GPU
The most powerful small workstation PC ever?!

Published Sun, Aug 11 2019 9:16 PM CDT
|
Updated Tue, Nov 3 2020 11:47 AM CST
Intel has a new mobile NUC workstation kit in the works with its new "Quartz Canyon" NUC, with FanlessTech reporting on the new Zeon-powered NUC that supports high-end graphics cards.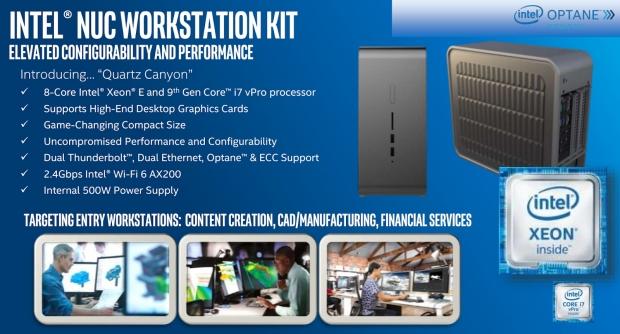 The new Intel Quartz Canyon NUC supports up to an 8-core Xeon-E and 9th-gen Core i7 vPro processor, as well as high-end graphics cards that would normally go into a high-end PC. The tiny size will attract a large userbase, offering high-end desktop performance in a portable carry-with-you size.
It's also packed with a bunch of connectivity and features including dual Thunderbolt 3 connectors, dual Ethernet ports, Intel Optane and ECC RAM support. Intel is also including a 500W power supply to get it all juiced, as well as 2.4Gbps Wi-Fi 6 connectivity.
The internal design of the Quartz Canyon is actually seriously impressive and very interesting, with Intel putting the CPU, RAM, and PCH onto an add-in card that connects into a PCIe hub, and is powered by an 8-pin power connector.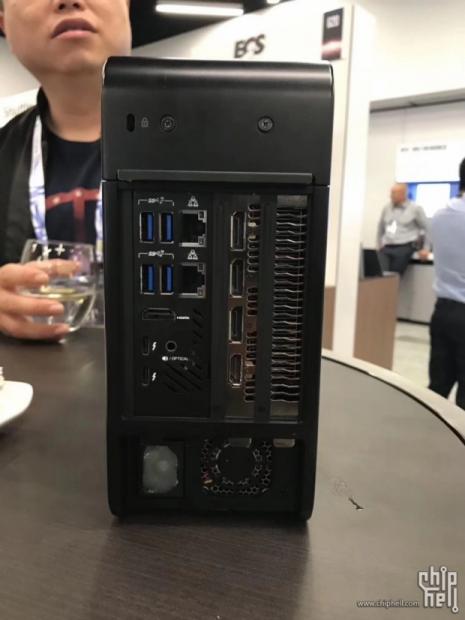 You can see that the left side of the Intel Quartz Canyon NUC is the CPU, RAM, PCH and then on the back -- we have all of the connectivity. In this department we have 4 x USB 3.0 ports, dual Ethernet ports, an HDMI output (from the integrated graphics, if there) and dual Thunderbolt 3 ports as well as a 3.5mm jack.
As for the GPU, Intel will support up to a GeForce RTX 2070 Mini and if you use a single-slot graphics card then Intel includes another PCIe 3.0 x8 slot.
Intel should announce and detail the Quartz Canyon NUC soon, then we'll have pricing and full specs.
Related Tags