Rocket League's lootboxes will soon be removed
Psyonix is pulling controversial lootboxes from Rocket League this year.

Published Tue, Aug 6 2019 4:09 PM CDT
|
Updated Tue, Nov 3 2020 11:47 AM CST
After making millions and millions over the course of multiple years, Psyonix has decided to pull its random monetized crates from Rocket League.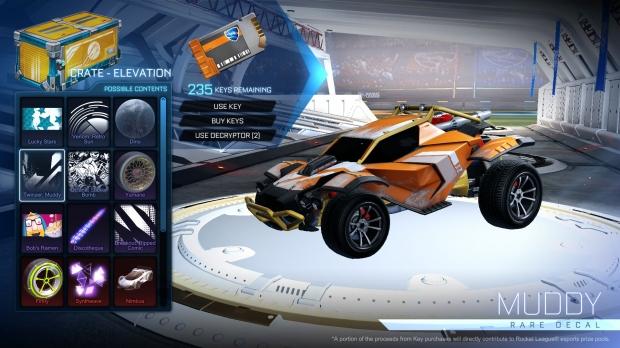 Rocket League will be lootbox-free by year's end, developer Psyonix today confirmed. The move comes after the developers raked in tremendous revenue from Rocket League's in-game purchases, which have gamers buy keys to unlock crates of items. Psyonix was also bought out by billion-dollar Fortnite titan Epic Games and now doesn't have to rely so heavily on monetization. But make no mistake: Rocket League will still be monetized with optional microtransactions. Psyonix is just changing the delivery method.
Rather than using what EA calls "surprise mechanics" where the contents are randomized, Psyonix will let gamers see what they're about to buy. It'll basically be a digital store where you exchange real cash for digital items.
"Here at Psyonix, and Epic Games as a whole, we are dedicated to creating the best possible experience for our players all over the world. In pursuit of that goal, later this year we will remove all paid, randomized Crates from Rocket League, replacing them with a system that shows the exact items you're buying in advance. This is similar to changes implemented earlier this year by the Fortnite Save the World team," the studio said in a recent update.
"Rocket Pass Premium, DLC Cars, and Esports Shop items will continue to be offered for direct purchase alongside our new system."
Rocket League is pretty much too big to give up monetization. Or at least that's the thought process with Psyonix and its new owner Epic Games. The title still has a bustling community of tens of millions of players and the companies want to squeeze out as much engagement and revenue as possible.
The new storefront will be detailed in the coming months, Psyonix says.
Related Tags