Microsoft confirms some users are stuck in Windows 10 S mode
Several Windows 10 users are stuck in a recursive loop of sorts, not being able to exit Windows 10 S mode - Microsoft is working on a solution.

Published Fri, Aug 2 2019 7:11 PM CDT
|
Updated Tue, Nov 3 2020 11:47 AM CST
Windows 10 always seems to have a new bug lurking around, and today is no different. Many users whose systems come out of the box in Windows 10 in S mode (formally named Windows 10 S) usually can switch out of S mode within the Microsoft Store.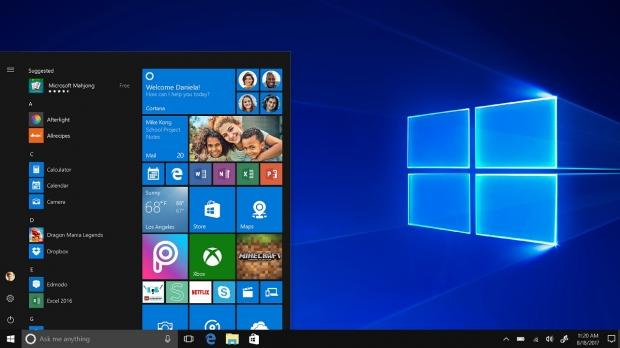 Unfortunately, many users are found in a loop of sorts as the store option to switch it is a blank page.
You may not be familiar with Windows 10 in S mode or formerly "Windows 10 S". Windows 10 S is and was a Windows 10 version based strictly around the locked-down control of only installing Windows 10 store apps. It enables some pretty strict security as there is no capability to run EXE on a Windows 10 in S mode device. This allows for a much more secure OS environment, but is not conducive to getting work done for most users as they are locked to only store apps.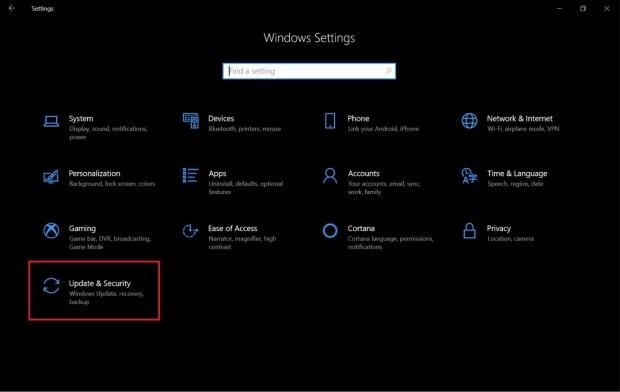 Microsoft did offer a way to switch from S mode to regular Windows 10 for those who bought devices which came in S mode by default. There is an option in the Windows 10 store to switch out of S mode. The following steps are courtesy of Windows Central. Firstly, you would want to find the option in the control panel labeled 'update and security.' (you can reach this much quicker by simply typing 'activation' into the start menu)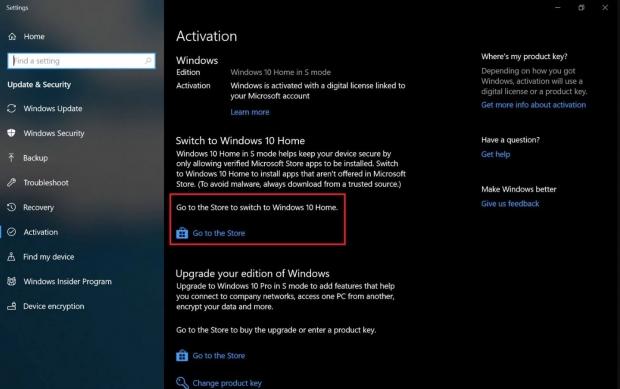 Once in updates and security, you can now select 'activation' from the left-hand ribbon. This is where users will see the option to switch to Windows 10 Home, which has a link to the store.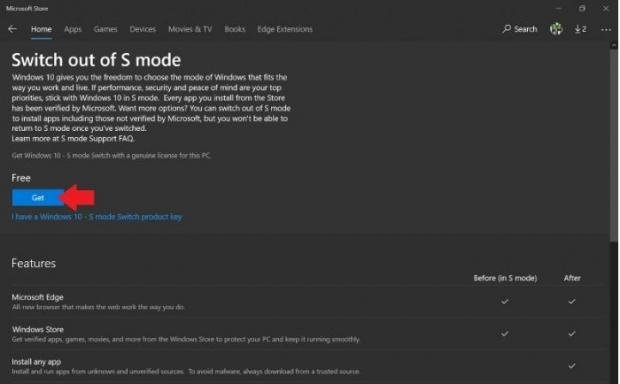 This will take you to the Microsoft Store which has the option as a free installation to unlock normal non-S mode Windows. This is where the crux of the issue is found. Many users going to this page presently are greeted by either a blank page or a spiraling loading icon without ever resolving.
Microsoft has acknowledged the issue, but have not given an ETA on a fix. Knowing issues like this in the past, times for a repair can be rather speedy. However, in some rare cases, a fix can take a while depending on the complexity of the correction needed. I hope for the sake of the impacted users it is corrected quickly. I could not imagine my PC being locked into S mode, not able to install any EXE-based applications.
Let us know your thoughts on issues like this. Or, more importantly, if you have been impacted by this issue, what impact has it had on your ability to use your new system.
Related Tags