Turbo Grafx 16 mini on the way from Konami
Konami gets in on the retro craze with a Turbo Grafx 16 mini console.

Published Tue, Jun 11 2019 8:49 PM CDT
|
Updated Tue, Nov 3 2020 11:48 AM CST
E3 2019 - Konami's "special E3 announcement" wasn't a new Castlevania, Silent Hill, or Metal Gear game, but micro version of an obscure 1990s console.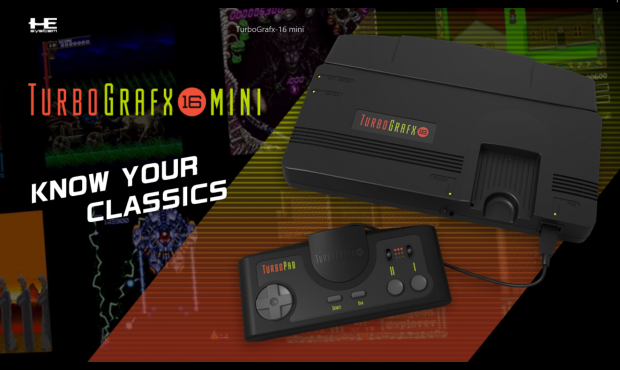 Konami is pulling a strange move and re-releasing a retro version of a console most of us didn't own for an audience that never really asked for it. The company is making a Turbo Grafx 16 mini system complete with built-in games, save states, video options simulating old-school play, and the multi-tap for up to five player action (sold separately!). Yes, Konami is actually selling the Turbo Grafx 16's infamous multi-tap.
We'll see three different regional flavors including the Turbo Grafx 16 (North America), the PC Engine Core Grafx Mini (Europe), and the PC Engine (Japan). And yes, Japan's PC Engine has different games including the region-locked Castlevania Dracula X.
Speaking of the games, they're not so hot right now. The best ones so far are R-Type and Castlevania Dracula X. The definitive Turbo Grafx 16 game Splatterhouse is missing from the roster but Konami says new games are coming soon.
Left: the PC Engine roster (Japan), followed by the Turbo Grafx 16's library on the right (Europe and North America share the same games right now).
Honestly I don't see this doing too well simply because it's so obscure. No one I knew growing up had a Turbo Grafx 16, and the only real reason to sell a retro console is to cash in on nostalgia.
No release date or pricing was revealed for Konami's Turbo Grafx 16 mini, but we did get a bunch of details:
Relive the Thrills and Emotion from Back in the Day

Originally released in Japan in 1987 as the TurboGrafx-16 home console captivated gamers with its revolutionary graphics and sound, and still holds a special place in the hearts of fans today.

Now, at long last, the TurboGrafx-16 is making a comeback!

It's set to return in the form of the TurboGrafx-16 mini, a new compact model that comes preloaded with a selection of popular titles!

A Compact Version of a Classic Design

A faithfully scaled-down version of the original TurboGrafx-16 design, right down to the smallest detail. Don't worry, though--the controllers are still their original size, allowing for exactly the same gameplay experience!

Save at any time with Quick Save!

The console features a Quick Save function that allows you to save at any point during a game.

Save your progress and continue playing when it's convenient for you!

Choose from various display modes!

Not only is the console ready to plug and play using the included HDMI cable, it also features different modes that let you choose how your games look, such as by replicating the scanlines on a CRT TV.

Simultaneous five-player gaming with a multitap!*

By using a multitap to connect additional controllers, up to five people can play together simultaneously.

*Multitap sold separately.
Related Tags