Cyberpunk 2077 releases in April 2020
CD Projekt RED's massive FPS RPG opus launches early next year.

Published Sun, Jun 9 2019 3:30 PM CDT
|
Updated Tue, Nov 3 2020 11:48 AM CST
E3 2019 - John Wick himself took the stage to announce Cyberpunk 2077's release date, and it's coming in 2020.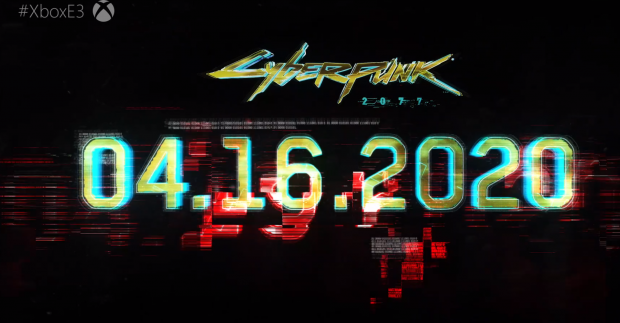 Keanu Reeves was at Microsoft's E3 2019 to reveal some huge news: after years and years of costly development, one of the most expansive and ambitious FPS RPGs is coming in 2020. We're talking of course about Cyberpunk 2077, and it'll release on April 16, 2020 for PS4, Xbox One, and PC.
Keanu actually stars in the game as an NPC who will help you burn Night City to the ground. We absolutely can't wait to check out the game when it launches next year. We've been reporting on Cyberpunk 2077 since 2016, chronicling its immensely complicated development and brought you multiple stories on its expansive scope, living breathing worlds, and chaotic action. Plus the multiple branching RPG storyline will open up new doors of dynamism and interactivity never before seen in a CD Projekt RED game.
Check below for more info on Cyberpunk 2077:
THE REAL YOU IS NOT ENOUGH

Cyberpunk 2077 is an open-world, action-adventure story set in Night City, a megalopolis obsessed with power, glamour and body modification. You play as V, a mercenary outlaw going after a one-of-a-kind implant that is the key to immortality. You can customize your character's cyberware, skillset and playstyle, and explore a vast city where the choices you make shape the story and the world around you.

PLAY AS A MERCENARY OUTLAW

Become a cyberpunk, an urban mercenary equipped with cybernetic enhancements and build your legend on the streets of Night City.

LIVE IN THE CITY OF THE FUTURE

Enter the massive open world of Night City, a place that sets new standards in terms of visuals, complexity and depth.

STEAL THE IMPLANT THAT GRANTS ETERNAL LIFE

Take the riskiest job of your life and go after a prototype implant that is the key to immortality.
Related Tags