So we drove in VIA's world-first smartphone-powered AI car
VIA shows off the world's first smartphone driver assistance app in Taiwan during Computex 2019.
Published
2 minutes & 49 seconds read time
Computex 2019 - One of the most unique experiences of Computex 2019 this year would have to be my trip in the world's first smartphone driver assistance app that was assisting a car driving on the highways in Taiwan.
This is part of the VIA-AI package that is an open source platform to advance the development of self-driving applications, so that they're built quicker and keeping us even safer in the self-driving cars of the future. The company reached out and asked if we'd like to have a ride in the world's first demonstration of a smartphone driver assistance app... and it was quiet the ride.
We have a very casually shot video unedited from our FB Live stream, explaining some of what's going on - apologies for the audio, it was a very last minute thing for us. VIA picked us up at the NVIDIA Taipei HQ after our meeting with Team Green, and away we went.
VIA-AI isn't about fully self-driving car technology but more smartphone-based Advanced Cruise Control (ACC) and Lake Keeping Assistance System (LKAS) which are normally found on high-end models of cars... something the company is bringing to other cars with VIA-AI. The entire VIA-AI source code will be made available, in VIA's own words "to enthusiasts, hackers, and anyone who wants to push forward the reality of autonomous driving in July 2019".
Richard Brown, Vice-President of International Marketing, VIA Technologies, Inc. who was in the car with us, said: "As the first company in the world to enable advanced Level 2 driver assistance functions on a smartphone, our mission is to accelerate the development of self-driving applications that leverage the capabilities of the world's most ubiquitous mobile device. With our forthcoming VIA-AI platform, we are committed to building a vibrant ecosystem for developers, enthusiasts, and industry partners to create innovative apps and services that boost driver safety and convenience".
In our drive we saw the VIA-AI technology keeping the car in its lanes and the smartphone-powered AI detecting threats in front of us like cars that have stopped ahead of us, so that you don't smash into them. It has cameras all around the car so the system also detected cars coming up behind us, and passing us -- just keeping us updated with possible warnings.
The future of this technology would see it being used into various different markets:
Transportation Verticals
Public Transportation

Industrial and Mining

Fleets and Taxis

Law Enforcement
Applicable Edge AI solutions
360° surround view systems

ADAS (Advanced Driver Assistance Systems)

Driver Recorder Systems

LPR (License Plate Recognition) systems

Facial Recognition Systems
Research and development in nascent
Autonomous Vehicles

Last Mile Delivery

Object Recognition

Gesture and Movement Recognition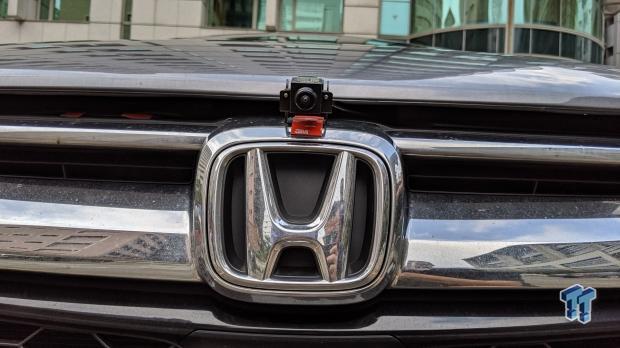 The front-facing camera on the car.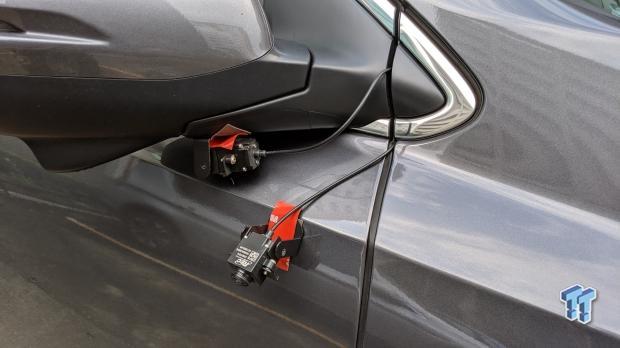 Another 2 side cameras on the right side of the car (and since we're in Taiwan, the drivers side of the car)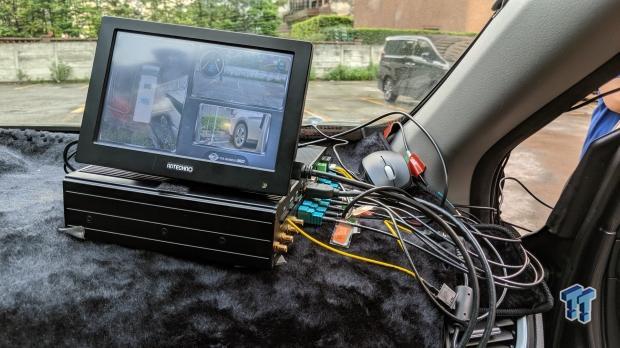 There's a hectic amount of stuff going on when it comes to the dash, but this is obviously a prototype and just put into the car for testing.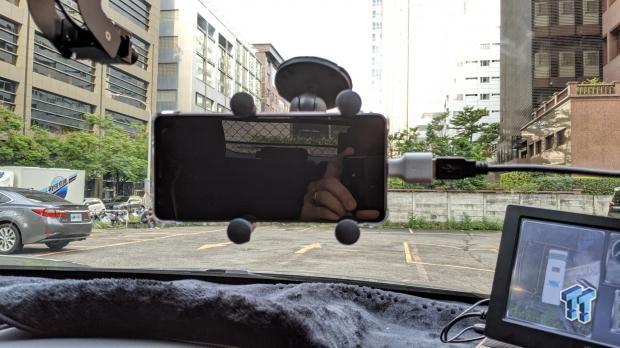 The smartphone controlling it all, powered by VIA-AI.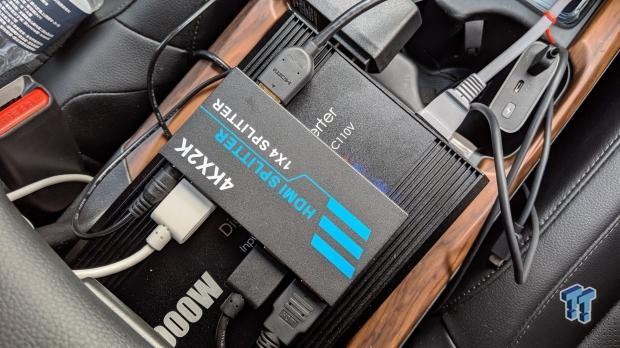 All that video horsepower needs an HDMI splitter between the chairs and a bunch of cables going everywhere throughout the car.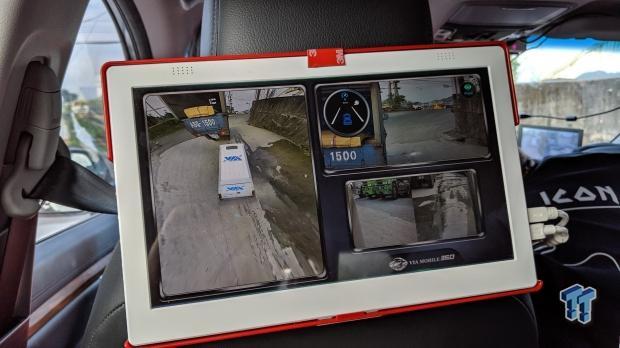 The 360-degree surround video setup is quite useful for seeing all around the vehicle, which is touch-enabled to spin around the vehicle in ease.
Related Tags