AMD Radeon RX 3080 specs leaked: start getting excited
AMD Radeon RX 3080 (Navi XT) specs reportedly leaked.

Published Thu, May 23 2019 3:00 PM CDT
|
Updated Tue, Nov 3 2020 11:48 AM CST
We are not far away from the unveiling of AMD's next-gen Navi GPU architecture and a new family of Radeon Navi graphics cards in the form of the purported Radeon RX 3000 series, and now we have leaked specs on the Radeon RX 3080.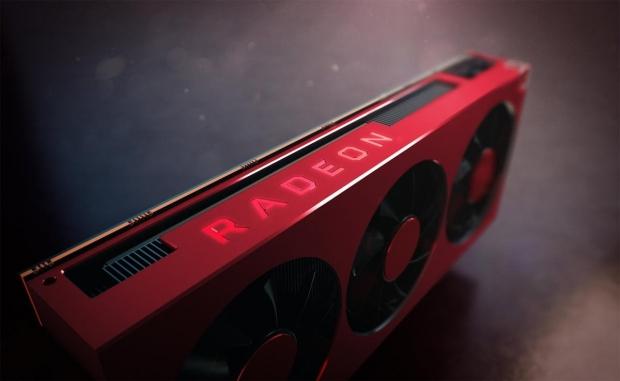 AMD is expected to use what should be the Navi 12 GPU inside of the Radeon RX 3080 leaving some room for larger Navi cards in the future, with the new specs teasing 8GB of VRAM, shader engine designs, and improved compute unit utilization efficiency, and more.
Navi 10 or 12 (whatever this is) should feature 40 compute units each of which will contain 64 stream processors, as well as 8 shader engines. Each of these shader engines will pack 5 compute units and a raster back end, which is a big deal. With previous GCN-based GPU architectures the raster back end would comprise of 16 ROPs, so we don't know if Navi 10/12 will feature 128 ROPs, or if things have changed under the hood with Navi (which I think has happened).
This also means we should see future Radeon graphics cards with more than 4096 stream processors, something that has been capped since the introduction of the Fiji GPU architecture in 2015.
We are expecting 8GB of GDDR6 memory on the Radeon RX 3080 while there are options for AMD to use up to 16GB of GDDR6 on future Navi-based Radeon cards.
As for pricing, the rumors are still pretty solid with $399 for the Radeon RX 3070 while we're looking at $499 for the Radeon RX 3080. As more news breaks on this, we'll bring it to you - but don't expect Navi to be detailed at Computex 2019 as we're hearing it's all about Zen 2 with a 'Navi is coming real soon' message leading into the Next Horizon Gaming event which is where Navi will be properly detailed in all of its next-gen glory.
Related Tags