Epic's new PC game mega sale should've been a huge opportunity for excitement, savings, and most importantly, game sales. But there's just one problem: not every dev and publisher wanted to participate.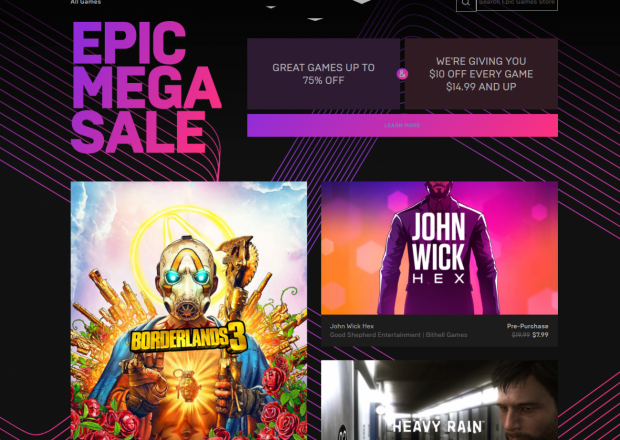 Epic's recent mega sale forcibly discounted every game on the storefront over $15. If a game costs more then $15, that game automatically had a $10 discount applied to it on top of the sale price set by the publisher. This offered some nice savings on big games like Borderlands 3, dropping all pre-orders by a cool $10. Not everyone was happy about this, namely the publishers that signed exclusivity deals with the promise of more revenues. Rather than letting devs and publishers opt out of the store-wide price drops, Epic offered a blanket discount on top of the sale price.
As a result, publishers literally started yanking their games from the storefront to avoid the sale. The Epic Store is in such a ramshackle state that entire games have to be pulled from the store if the publisher doesn't agree with the sale price. Some of the store's biggest exclusive games have been pulled including Borderlands 3 and The Division 2.
Epic confirmed the only way to opt out of the sale was to temporarily remove the game from the storefront.
"If a developer or publisher chooses to not participate in our sales, we will honor that decision. Paradox Interactive has chosen to not participate in the Epic Mega Sale and the game has been temporarily removed from sale," Epic Games told Kotaku.
Read Also: Epic Store is slowly morphing into Steam
What's interesting is that Epic promised the extra $10 discount wouldn't actually affect developers and publishers.
"During the Epic Mega Sale, developers and publishers are discounting a ton of great games up to 75% off. Also, for every game purchase over $14.99, Epic Games is providing an additional $10 off to players at no cost to the publisher or developer," reads a press release sent out via e-mail.
If the discount didn't actually impact game sales revenue, then why did so many publishers pull out? I'd really like to know. This only goes to show Epic needs to fortify its store with basic features (like a shopping cart, it still doesn't have a shopping cart) before it keeps scooping up exclusives and dropping sales.