Most people thought that the Razer Toaster was a joke, first making its appearance into this realm of existence 5 years from FB page 'Give us the Razer Toaster' asked Razer CEO Min-Liang Tang about the possibilities of a Razer Toaster.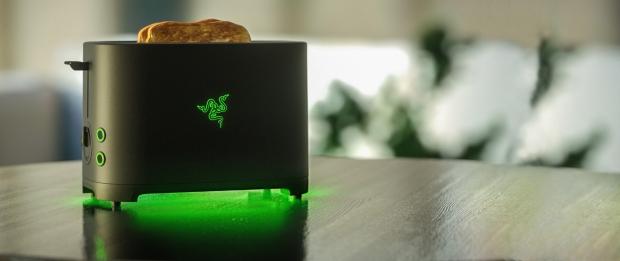 Back in September 2013 the FB group started the Razer Toaster movement with the tease of 'have a slice of ownage' with the Razer logo burned into the bread, and it looked awesome. At the time, Min-Liang Tan said if the page hit 1 million likes he said he would definitely make one. Well, after the video went live the community did what they do best -- rallied together and made it happen.
The hype for the Razer Toaster continued with other content creators getting behind it with their own takes on the gaming toaster, and even Razer itself for April Fools 2016 where it joked about 'Project Breadwinner'. An actual Razer Toaster tease with the marketing slogan of 'It's a little bit... toasty'. From there it gained enough steam that the Give us the Razer Toaster page on Facebook had over 1 million likes, and now Min-Liang is living up to his promise of making the Razer Toaster real.
In a Facebook post on his page, Min-Liang said: "Alright - I didn't think these guys were going to make it - but they did. It was to hit 1M likes and with each Razer Toaster tattoo being equivalent to 100K likes each....and they now have 12 Razer Toaster tattoos. Well....what can I say. I've just officially liked their page - and I'm going to put together my team of designers and engineers. It will take a few years - but I'll be sure to share the progress - and make it a community affair".
He added: "A Razer Toaster - For Razer Toaster Lovers. By Razer Toaster Lovers".
like any Razer product, the team will "put a lot of effort" "I think we could design a really kick ass toaster"